The Wednesday Weekly Blogging Challenge is hosted by Long and Short Reviews. This is a way for fellow bloggers to mingle.
Today's topic is: the last place I traveled to and why.
Back in late February (which honestly feels like it was 500 years ago), I went to Palm Springs with my friend Gina and a couple of her former coworkers for her birthday. Living in SoCal my whole life, I'd never been to Palm Springs, a desert town known as a retirement destination with a mix of retro and modern homes. It's a fun spot for a getaway and I had a lot of fun.
We ate at one of the local restaurants and went to one of the nightclubs our first day there. I brought the wrong type of shoes (heeled boots!) so I had to sit out some of the night at the bar for fear the rest of the group would have to carry me to the car.
Windmills are seen right when you get into the city limits.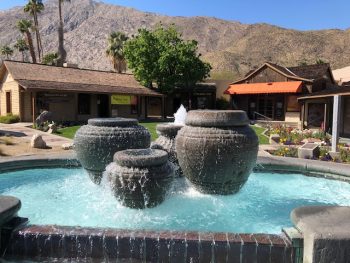 A fountain in the city center flanked by little shops.
A sidewalk in the main part of the city. Palm Springs even have its own Walk of Stars.
Aside from being a retirement destination, Palms Springs is also known for its Aerial tramway. I was looking forward to seeing it except for the tiny, unignorable issue of me being afraid of heights. And this is a great height! After getting over initial fear of ascending up the side of a mountain over rocky terrain, it's actually pretty cool. I took this photo on our ascent.
After getting off the tram, you're in Mount San Jacinto State Park. Forest sprawls, with trails and camping sites. Unfortunately, two of our group started suffering from altitude sickness so we only stayed for an hour.

But as you can see, it's beautiful!
Slushy snow revealed all sorts of animal footprints. I'm thinking these are raccoon.
One of my childhood dreams was fulfilled when we got to see the Cabazon Dinosaurs on our last day. I first saw these guys in the movie Pee Wee's Big Adventure and I immediately turned into a seven year old girl who's just been told that dinosaurs are real. We didn't stay long, yet it was everything I'd dreamed of.
When things get better health wise, I am going back to both Palm Springs and to see more of the dinosaurs.