Waiting on Wednesday is a meme hosted by Jill at Breaking the Spine in which we have the opportunity to let others know about books that we are eagerly waiting for.
Bee
The Upside of Unrequited
by
Becky Albertalli
Published on
April 11th 2017
by
Balzer + Bray
Genres:
Young Adult
,
Contemporary
,
Romance
Goodreads
Also by this author:
Simon vs the Homo Sapiens Agenda
,
Simon vs. the Homo Sapiens Agenda
,
Simon VS the Homo Sapiens Agenda
,
The Upside of Unrequited
,
Leah On The Offbeat
What does a sixteen-year-old girl have to do to kiss a boy? Molly Peskin-Suso wishes she knew. She's crushed on twenty-six guys…but has kissed exactly none. Her twin sister Cassie's advice to "just go for it" and "take a risk" isn't that helpful. It's easy for her to say: she's had flings with lots of girls. She's fearless and effortlessly svelte, while Molly is introverted and what their grandma calls zaftig.

Then Cassie meets Mina, and for the first time ever, Cassie is falling in love. While Molly is happy for her twin, she can't help but feel lonelier than ever. But Cassie and Mina are determined to end Molly's string of unrequited crushes once and for all. They decide to set her up with Mina's friend Will, who is ridiculously good-looking, flirty, and seems to be into Molly. Perfect, right? But as Molly spends more time with Reid, her cute, nerdy co-worker, her feelings get all kinds of complicated. Now she has to decide whether to follow everyone's advice…or follow her own heart.
Why I'm waiting: Ahahaha, you still want me to explain this. That's cute. Okay. So I might have mentioned a little book called Simon VS The Homo Sapiens Agenda before. I'm not sure if you can recall, because I was quite subtle with my love for that book. Well, this book is by the author that wrote that book. So yeah. Count me in. I want it. Now.
Liza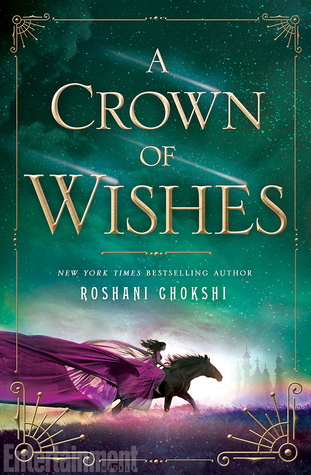 A Crown of Wishes
by
Roshani Chokshi
Series:
The Star-Touched Queen
Published on
March 28th 2017
by
St. Martin's Griffin
Goodreads
Also by this author:
The Star-Touched Queen
,
A Crown of Wishes
,
Aru Shah and the End of Time (Pandava Quartet, #1)
,
The Gilded Wolves (The Gilded Wolves, #1)
When Gauri, the princess of Bharata, is captured by her kingdom's rivals, she can only find help in Vikram, the cunning prince of an enemy kingdom. Unsatisfied with royal life, Vikram offers Gauri a chance to win back her kingdom in exchange for her battle prowess. They set aside their differences and team up to compete in the Tournament of Wishes, wherein the Lord of Wealth promises a wish to the victor. Every which way they turn new trials will test their wit and strength. But what Gauri and Vikram soon discover is that there's nothing more dangerous than what they most desire.
Why I'm waiting: I loved The Star-Touched Queen and A Crown of Wishes is Gauri's story.  She had so much spunk that I can't wait to read her story.
What are you waiting for this week?
Latest posts by Bee, Liza & Leah
(see all)