Waiting on Wednesday is a meme hosted by Jill at Breaking the Spine in which we have the opportunity to let others know about books that we are eagerly waiting for.
Title: Of Scars and Stardust by Andrea Hannah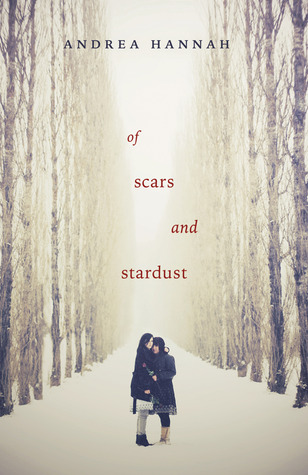 Published by: Flux
Release date: October 8th 2014
After her little sister mysteriously vanishes, seventeen-year-old Claire Graham has a choice to make: stay snug in her little corner of Manhattan with her dropout boyfriend, or go back to Ohio to face the hometown tragedy she's been dying to leave behind.

But the memories of that night still haunt her in the city, and as hard as she tries to forget what her psychiatrist calls her "delusions," Claire can't seem to escape the wolf's eyes or the blood-speckled snow. Delusion or reality, Claire knows she has to hold true to the most important promise she's ever made: to keep Ella safe. She must return to her sleepy hometown in order to find Ella and keep her hallucinations at bay before they strike again. But time is quickly running out, and as Ella's trail grows fainter, the wolves are becoming startlingly real.

Now Claire must deal with her attraction to Grant, the soft-spoken boy from her past that may hold the secret to solving her sister's disappearance, while following the clues that Ella left for only her to find. Through a series of cryptic diary entries, Claire must unlock the keys to Ella's past—and her own—in order to stop another tragedy in the making, while realizing that not all things that are lost are meant to be found.
Why I want to read it: I've wanted to read Of Scars and Stardust ever since I discovered The Secret Life of Writers. It's an amazing blog project run by Andrea Hannah, Heather Marie, Stephanie Gaither and a ton of other fabulous authors who decided to share their journey to publication and aspects of the writing process we may not have seen before. Whenever Andrea mentioned Of Scars and Stardust (even back when it had an entirely different title!) I just fell more and more in love with the story. I almost can't believe I'll be able to read it for myself in just a few weeks!
What books are you waiting for this week?
Latest posts by ariannebookblogger
(see all)