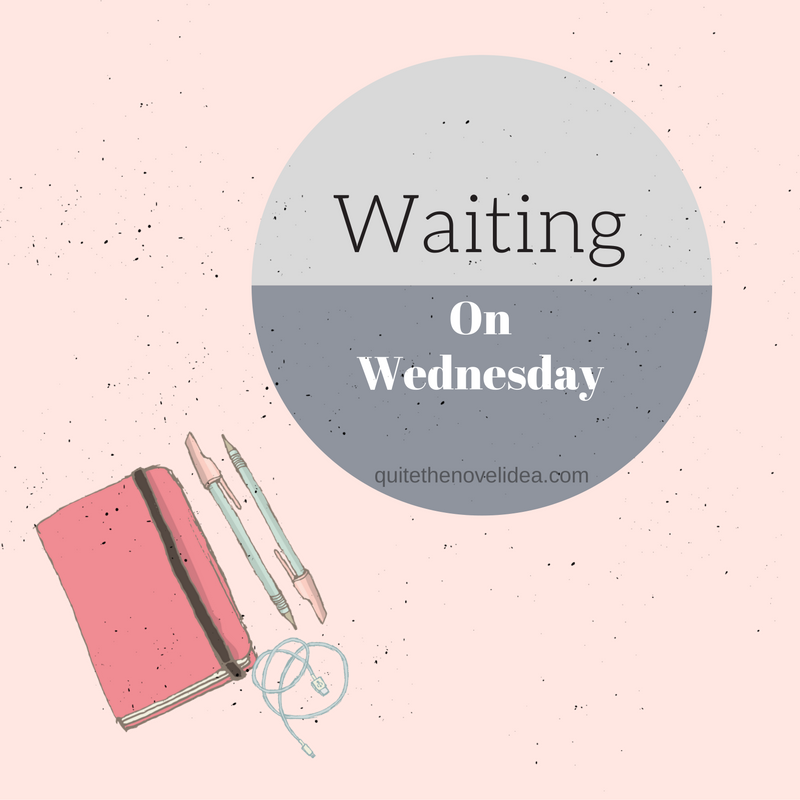 Waiting on Wednesday is a meme hosted by Jill at Breaking the Spine in which we have the opportunity to let others know about books that we are eagerly waiting for.
Bee
What To Say Next
by Julie Buxbaum
Published on July 11th 2017
by Delacorte Press
Genres: Young Adult, Contemporary, Romance
Goodreads

Also by this author:
Tell Me Three Things
,
Tell Me Three Things
,
What to Say Next
From the New York Times bestselling author of Tell Me Three Things comes a charming and poignant story about two struggling teenagers who find an unexpected connection just when they need it most. For fans of Sophie Kinsella, Jennifer Niven, and Rainbow Rowell.

Sometimes a new perspective is all that is needed to make sense of the world.

KIT: I don't know why I decide not to sit with Annie and Violet at lunch. It feels like no one here gets what I'm going through. How could they? I don't even understand.

DAVID: In the 622 days I've attended Mapleview High, Kit Lowell is the first person to sit at my lunch table. I mean, I've never once sat with someone until now. "So your dad is dead," I say to Kit, because this is a fact I've recently learned about her.

When an unlikely friendship is sparked between relatively popular Kit Lowell and socially isolated David Drucker, everyone is surprised, most of all Kit and David. Kit appreciates David's blunt honesty—in fact, she finds it bizarrely refreshing. David welcomes Kit's attention and her inquisitive nature. When she asks for his help figuring out the how and why of her dad's tragic car accident, David is all in. But neither of them can predict what they'll find. Can their friendship survive the truth?
Why I'm waiting: I ADORED Tell Me Three Things last year. It was one of my favorite contemporary reads of the year even. So I absolutely want to read this one! It sounds amazing at least so here's hoping it doesn't disappoint.
Liza
The Hundredth Queen
by Emily R. King
Published on June 1st 2017
by Skyscape
Genres: Young Adult, Fantasy
Goodreads

As an orphan ward of the Sisterhood, eighteen-year-old Kalinda is destined for nothing more than a life of seclusion and prayer. Plagued by fevers, she's an unlikely candidate for even a servant's position, let alone a courtesan or wife. Her sole dream is to continue living in peace in the Sisterhood's mountain temple.

But a visit from the tyrant Rajah Tarek disrupts Kalinda's life. Within hours, she is ripped from the comfort of her home, set on a desert trek, and ordered to fight for her place among the rajah's ninety-nine wives and numerous courtesans. Her only solace comes in the company of her guard, the stoic but kind Captain Deven Naik.

Faced with the danger of a tournament to the death—and her growing affection for Deven—Kalinda's only hope for escape lies in an arcane, forbidden power that's buried within her.

In Emily R. King's thrilling fantasy debut, an orphan girl blossoms into a warrior, summoning courage and confidence in her fearless quest to upend tradition, overthrow an empire, and reclaim her life as her own.
Why I'm waiting: It sounds like an amazing fantasy full of tyranny, magic and forbidden love. Besides, isn't this cover to die for?
What are you waiting for this week?
Bee, Liza, Effie & Rachel are the co-creators and bloggers of Quite the Novel Idea!
Latest posts by Bee, Liza & Leah (see all)