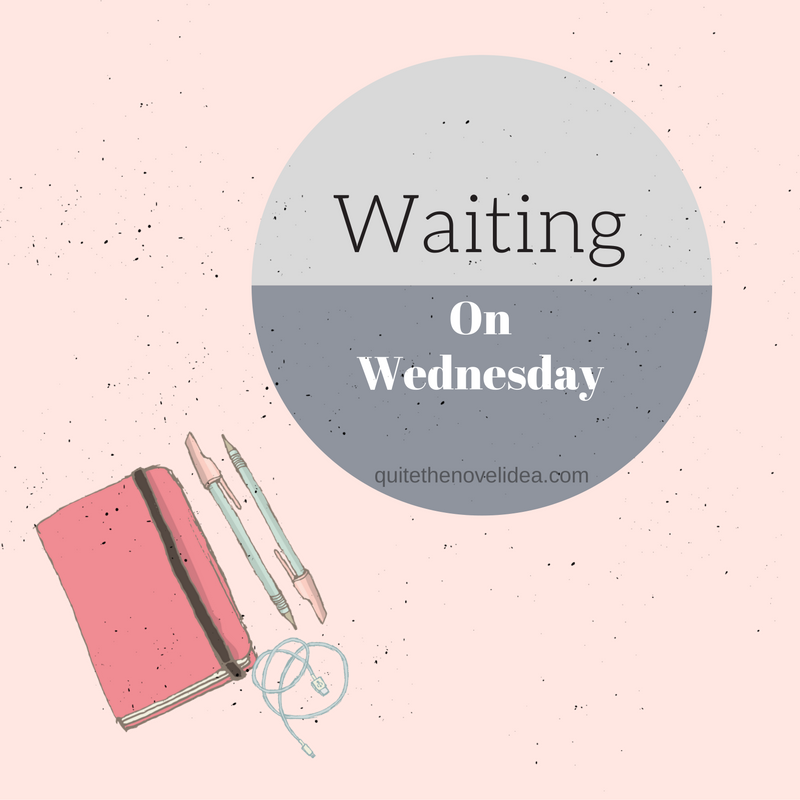 Waiting on Wednesday is a meme hosted by Jill at Breaking the Spine in which we have the opportunity to let others know about books that we are eagerly waiting for.
Bee
When Light Left Us
by
Leah Thomas
Published on
February 13th 2018
by
Bloomsbury Children's
Genres:
Young Adult
,
Contemporary
,
Science Fiction
Goodreads
Also by this author:
Because You'll Never Meet Me
,
Because You'll Never Meet Me
,
Because You'll Never Meet Me
,
Nowhere Near You
William C. Morris YA Debut Award finalist and Indies Introduce author Leah Thomas crafts a wholly unique and compelling story about the aftermath of a family's alien encounter.

When the Vasquez siblings' father left, it seemed nothing could remedy the absence in their lives . . . until a shimmering figure named Luz appeared in the canyon behind their house.

Luz filled the void. He shot hoops with seventeen-year-old Hank's hands. He showed fourteen-year-old Ana cinematic beauty behind her eyelids. He spoke kindly to eight-year-old Milo. But then Luz left, too, and he took something from each of them. As a new school year begins, Ana, Hank, and Milo must carry on as if an alien presence never altered them. But how can they ever feel close to other people again when Luz changed everything about how they see the world and themselves?

In an imaginative and heartfelt exploration of human—and non-human—nature, Leah Thomas champions the unyielding bonds between family and true friends.
Why I'm waiting: It's LEAH. THOMAS. My love for Because You'll Never Meet Me and Nowhere Near You will never end and Ollie and Moritz are my precious babies that I will love and protect and cuddle forever. So yes, I need this book. Also PRETTY COVER DUDE. Look at it.
Liza
Dare Mighty Things
by
Heather Kaczynski
Published on
October 10th 2017
by
HarperTeen
Genres:
Young Adult
,
Science Fiction
Goodreads
THE RULES ARE SIMPLE: You must be gifted. You must be younger than twenty-five. You must be willing to accept the dangers that you will face if you win.

Seventeen-year-old Cassandra Gupta's entire life has been leading up to this—the opportunity to travel to space. But to secure a spot on this classified mission, she must first compete against the best and brightest people on the planet. People who are as determined as she to win a place on a journey to the farthest reaches of the universe.

Cassie is ready for the toll that the competition will take; the rigorous mental and physical tests designed to push her to the brink of her endurance. But nothing could have prepared her for the bonds she would form with the very people she hopes to beat. Or that with each passing day it would be more and more difficult to ignore the feeling that the true objective of the mission is being kept from her.

As the days until the launch tick down and the stakes rise higher than ever before, only one thing is clear to Cassie: she'll never back down . . . even if it costs her everything.
Why I'm waiting: Doesn't this sounds awesome?  Like the Amazing Race or something like that for a chance to go to space.
Leah
The Girl in the Tower
by
Katherine Arden
Series:
The Bear and the Nightingale #2
Published on
January 9th 2018
by
Del Rey
Genres:
Historical Fiction
,
Fantasy
Goodreads
Also by this author:
The Bear and the Nightingale
,
The Girl in the Tower (Winternight Trilogy, #2)
,
Small Spaces
,
The Winter of the Witch (Winternight Trilogy, #3)
The magical adventure begun in The Bear and the Nightingale continues as brave Vasya, now a young woman, is forced to choose between marriage or life in a convent and instead flees her home—but soon finds herself called upon to help defend the city of Moscow when it comes under siege.

Orphaned and cast out as a witch by her village, Vasya's options are few: resign herself to life in a convent, or allow her older sister to make her a match with a Moscovite prince. Both doom her to life in a tower, cut off from the vast world she longs to explore. So instead she chooses adventure, disguising herself as a boy and riding her horse into the woods. When a battle with some bandits who have been terrorizing the countryside earns her the admiration of the Grand Prince of Moscow, she must carefully guard the secret of her gender to remain in his good graces—even as she realizes his kingdom is under threat from mysterious forces only she will be able to stop.
Why I'm waiting: I absolutely loved the first book in the series, The Bear and the Nightingale, and I have to know what happens next for Vasya and Frost.
What are you waiting for this week?
Save
Latest posts by Bee, Liza & Leah
(see all)