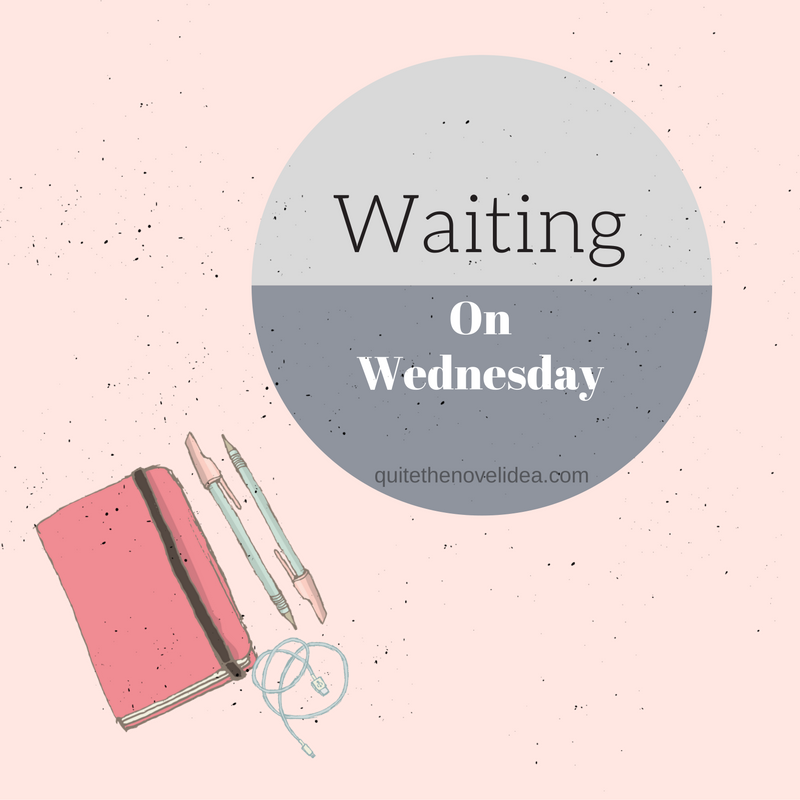 Waiting on Wednesday is a meme hosted by Jill at Breaking the Spine in which we have the opportunity to let others know about books that we are eagerly waiting for.
Bee
Renegades
by
Marissa Meyer
Published on
November 7th 2017
by
Feiwel & Friends
Genres:
Young Adult
,
Fantasy
Goodreads
Also by this author:
Cinder
,
Scarlet
,
Cress
,
Cress
,
Fairest
From #1 New York Times-bestselling author Marissa Meyer, comes a high-stakes world of adventure, passion, danger, and betrayal.

Secret Identities.
Extraordinary Powers.
She wants vengeance. He wants justice.

The Renegades are a syndicate of prodigies—humans with extraordinary abilities—who emerged from the ruins of a crumbled society and established peace and order where chaos reigned. As champions of justice, they remain a symbol of hope and courage to everyone...except the villains they once overthrew.

Nova has a reason to hate the Renegades, and she is on a mission for vengeance. As she gets closer to her target, she meets Adrian, a Renegade boy who believes in justice—and in Nova. But Nova's allegiance is to a villain who has the power to end them both.
Why I'm waiting: It's Marissa Meyer. With a book about superheroes and vigilantes and superpowers. And vengeance. I mean… YES.
Liza
The Loneliest Girl in the Universe
by
Lauren James
Published on
September 7th 2017
by
Walker
Genres:
Young Adult
,
Science Fiction
Goodreads
Also by this author:
The Loneliest Girl in the Universe
Can you fall in love with someone you've never met, never even spoken to – someone who is light years away?

Romy Silvers is the only surviving crew-member of a spaceship travelling to a new planet, on a mission to establish a second home for humanity amongst the stars. Alone in space, she is the loneliest girl in the universe until she hears about a new ship which has launched from Earth – with a single passenger on board. A boy called J.

Their only communication with each other is via email – and due to the distance between them, their messages take months to transmit across space. And yet Romy finds herself falling in love.

But what does Romy really know about J? And what do the mysterious messages which have started arriving from Earth really mean?

Sometimes, there's something worse than being alone . . .
Why I'm waiting: What's more intriguing to me about this book is the concept of being alone in space.  I recently watched the movie Passengers and I really liked it.  I'm not sure how I would react in such a situation…
Leah
The Language of Thorns
by
Leigh Bardugo
Published on
September 26th 2017
by
Macmillan
Genres:
Young Adult
,
Fantasy
Goodreads
Also by this author:
Shadow and Bone
,
Siege and Storm
,
Ruin & Rising
,
Shadow and Bone
,
Siege and Storm
Love speaks in flowers. Truth requires thorns.

Travel to a world of dark bargains struck by moonlight, of haunted towns and hungry woods, of talking beasts and gingerbread golems, where a young mermaid's voice can summon deadly storms and where a river might do a lovestruck boy's bidding but only for a terrible price.

Inspired by myth, fairy tale, and folklore, #1 New York Times–bestselling author Leigh Bardugo has crafted a deliciously atmospheric collection of short stories filled with betrayals, revenge, sacrifice, and love.

Perfect for new readers and dedicated fans, these tales will transport you to lands both familiar and strange—to a fully realized world of dangerous magic that millions have visited through the novels of the Grishaverse.

This collection of six stories includes three brand-new tales, all of them lavishly illustrated with art that changes with each turn of the page, culminating in six stunning full-spread illustrations as rich in detail as the stories themselves.
Why I'm waiting: Leigh's one of my favorite authors, so I'll read anything she writes. This story collection looks darkly delightful!
What are you waiting for this week?
Save
Save
Save