Waiting on Wednesday is a meme hosted by Jill at Breaking the Spine in which we have the opportunity to let others know about books that we are eagerly waiting for.
Bee
Cure for the Common Universe
by
Christian McKay Heidicker
Published on
June 14th 2016
by
Simon & Schuster
Genres:
Young Adult
,
Contemporary
Goodreads
Sixteen-year-old Jaxon is being committed to video game rehab...

ten minutes after he met a girl. A living, breathing girl named Serena, who not only laughed at his jokes but actually kinda sorta seemed excited when she agreed to go out with him.

Jaxon's first date. Ever.

In rehab, he can't blast his way through galaxies to reach her. He can't slash through armies to kiss her sweet lips. Instead, he has just four days to earn one million points by learning real-life skills. And he'll do whatever it takes—lie, cheat, steal, even learn how to cross-stitch—in order to make it to his date.

If all else fails, Jaxon will have to bare his soul to the other teens in treatment, confront his mother's absence, and maybe admit that it's more than video games that stand in the way of a real connection.

Prepare to be cured.
This book sounds awesome, seriously! I think it will be funny and deliciously nerdy with all the gaming stuff in it. And that cover is kind of weird but also fantastic. I want this!
Liza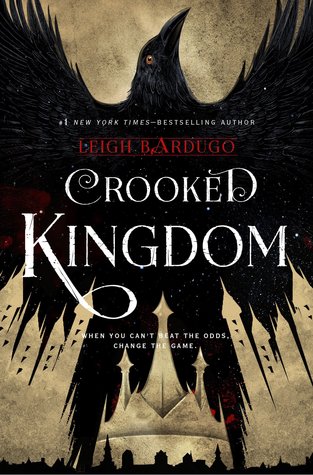 Crooked Kingdom
by
Leigh Bardugo
Series:
Six of Crows #2
Published on
September 27th 2016
by
Henry Holt & Co.
Goodreads
Also by this author:
Shadow and Bone
,
Siege and Storm
,
Ruin & Rising
,
Shadow and Bone
,
Siege and Storm
Kaz Brekker and his crew have just pulled off a heist so daring even they didn't think they'd survive. But instead of divvying up a fat reward, they're right back to fighting for their lives.

Double-crossed and left crippled by the kidnapping of a valuable team member, the crew is low on resources, allies, and hope. As powerful forces from around the world descend on Ketterdam to root out the secrets of the dangerous drug known as jurda parem, old rivals and new enemies emerge to challenge Kaz's cunning and test the team's fragile loyalties.

A war will be waged on the city's dark and twisting streets―a battle for revenge and redemption that will decide the fate of magic in the Grisha world.
Do you have to ask? If you do, it means that you haven't read Six of Crows. The next logical question is: WHY???  I cannot wait to read for Crooked Kingdom after the the turn of events at the very end of Six of Crows.  Is it September yet? 🙁
Rachel
Down with the Shine
by
Kate Karyus Quinn
Published on
26th April, 2016
by
HarperTeen
Genres:
Young Adult
Goodreads
There's a reason they say "be careful what you wish for." Just ask the girl who wished to be thinner and ended up smaller than Thumbelina, or the boy who asked for "balls of steel" and got them-literally. And never wish for your party to go on forever. Not unless you want your guests to be struck down by debilitating pain if they try to leave.

These are things Lennie only learns when it's too late-after she brings some of her uncles' moonshine to a party and toasts to dozens of wishes, including a big wish of her own: to bring back her best friend, Dylan, who was abducted and murdered six months ago.

Lennie didn't mean to cause so much chaos. She always thought her uncles' moonshine toast was just a tradition. And when they talked about carrying on their "important family legacy," she thought they meant good old-fashioned bootlegging.

As it turns out, they meant granting wishes. And Lennie has just granted more in one night than her uncles would grant in a year.

Now she has to find a way to undo the damage. But once granted, a wish can't be unmade...
Normally, the only books that I highly anticipate are sequels or new books by favourite authors. This book is a rare exception. I've been drawn in by the cover and the description. I mean magical moonshine and granting wishes and just… *gestures wildly*! This books sounds incredible and I cannot wait to get my hands on it. The wait is killing me. It's definitely one of my most highly antcipated books of the year and I'd give up my firstborn child (okay, maybe just my right arm or something less dramatic) for an early copy.
What are you waiting for this week?
Latest posts by Bee, Liza & Leah
(see all)