Waiting on Wednesday is a meme hosted by Jill at Breaking the Spine in which we have the opportunity to let others know about books that we are eagerly waiting for.
Bee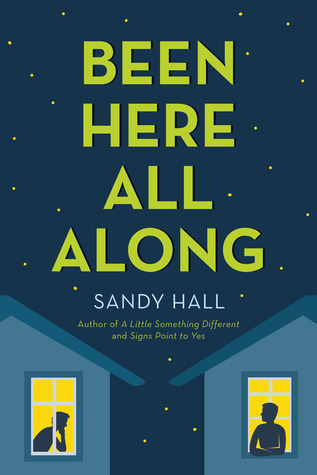 Been Here All Along
by
Sandy Hall
Published on
August 30th 2016
by
Swoon Reads
Genres:
Young Adult
,
Contemporary
,
Romance
,
LGBT
Goodreads
Also by this author:
A Little Something Different
,
Signs Point to Yes
,
Been Here All Along
Gideon always has a plan. His plans include running for class president, becoming head of the yearbook committee, and having his choice of colleges. They do NOT include falling head over heels for his best friend and next door neighbor, Kyle. It's a distraction. It's pointless, as Kyle is already dating the gorgeous and popular head cheerleader, Ruby. And Gideon doesn't know what to do.

Kyle finally feels like he has a handle on life. He has a wonderful girlfriend, a best friend willing to debate the finer points of Lord of the Rings, and social acceptance as captain of the basketball team. Then, both Ruby and Gideon start acting really weird, just as his spot on the team is threatened, and Kyle can't quite figure out what he did wrong…
Why I'm waiting: I have not read a book by this author yet, but I want to and this one just sounds like it's perfect for me. Plus, I hear great things so yes yes yes!
Liza
Den of Wolves
by
Juliet Marillier
Series:
Blackthorn & Grim #3
Published on
November 1st 2016
by
Roc
Genres:
Fantasy
Goodreads
Also by this author:
Den of Wolves
The "powerful and emotionally-charged" fantasy series from the author of the Sevenwaters novels continues, as Blackthorn and Grim face haunting secrets and old adversaries...

Feather bright and feather fine, None shall harm this child of mine...

Healer Blackthorn knows all too well the rules of her bond to the fey: seek no vengeance, help any who ask, do only good. But after the recent ordeal she and her companion, Grim, have suffered, she knows she cannot let go of her quest to bring justice to the man who ruined her life.

Despite her personal struggles, Blackthorn agrees to help the princess of Dalriada in taking care of a troubled young girl who has recently been brought to court, while Grim is sent to the girl's home at Wolf Glen to aid her wealthy father with a strange task—repairing a broken-down house deep in the woods. It doesn't take Grim long to realize that everything in Wolf Glen is not as it seems—the place is full of perilous secrets and deadly lies...

Back at Winterfalls, the evil touch of Blackthorn's sworn enemy reopens old wounds and fuels her long-simmering passion for justice. With danger on two fronts, Blackthorn and Grim are faced with a heartbreaking choice—to stand once again by each other's side or to fight their battles alone...
Why I'm waiting: Oh my goodness!  The Blackthorn and Grimm series is one of my all-time fantasy adult series ever.  It's SO good and I cannot wait to see what happens with both of these complex characters.
What are you waiting for this week?
Latest posts by Bee, Liza & Leah
(see all)