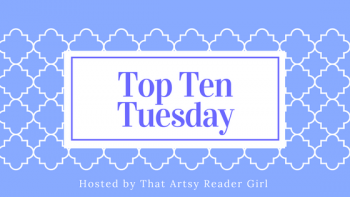 Top Ten Tuesday is hosted by That Artsy Reader Girl.
Happy Tuesday, everyone! Today's Top Ten is all about our favorite bookish quotes…buuut I might have sprinkled in some words of wisdom found in poems, speeches, and even song lyrics. 😀 Some of these are little nudges to help ease my anxiety; others are for enlightenment. All of these words I try to live by every day. Enjoy!
"You're nobody's rainbow. You're nobody's princess. You're nobody's doorway but your own, and the only one who gets to tell you how your story ends is you." 
–from Every Heart a Doorway by Seanan McGuire
"It is only with the heart that one can see rightly; what is essential is invisible to the eye."
–from The Little Prince by Antoine de Saint-Expury
"If they give you ruled paper, write the other way."
–Juan Ramon Jimenez, read in Fahrenheit 451 by Ray Bradbury
"Fairy tales are more than true; not because they tell us that dragons exist, but because they tell us that dragons can be beaten."
–from Coraline by Neil Gaiman
"Hope makes its own magic."
–from Daughter of Smoke and Bone by Laini Taylor
"You never really understand a person until you consider things from his point of view…until you climb inside of his skin and walk around in it."
–from To Kill a Mockingbird by Harper Lee
"And in the end, the love you take is equal to the love you make."
–from The End by the Beatles
"Raise your words, not voice. It is rain that grows flowers, not thunder."
–Rumi
And my absolute favorite…
"Darkness cannot drive out darkness, only light can do that. Hate cannot drive out hate, only love can do that."
— from The Strength to Love sermon by Martin Luther King, Jr.
What are your words you live by?