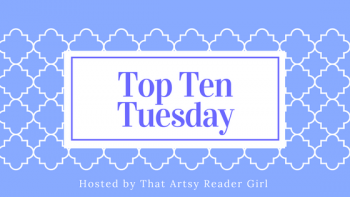 Happy Tuesday, everyone! Top Ten Tuesday is hosted by That Artsy Reader Girl.
I'm an equal opportunity reader. If something catches my interest, be it for kids, tweens, teens, or adults, I read it. Because of that, I'm tweaking the theme (books we read outside our comfort zone that we liked) a little to talk about weird books. I'm talking about genre benders, unheard of themes, things that made me wonder if this book is real. Ya girl adores a good weird tale, so I'm going to talk about some novels I've come across in my reading.
Sanity questioning and slight spoilers for books ahead.
All the Birds in the Sky by Charlie Jane Anders
So this book is a hodgepodge of magic and secret societies and talking birds and science fiction with a love story between two misfits from opposing sides. I lost count of the times I said, "What?" out loud while reading, but I liked this one a lot.


A Wrinkle in Time by Madeline L'Engle
I speak with love when I call this book weird. Interdimensional quests, winged beasts, mysterious characters, a mind-controlling entity, all this and more for our young protagonist. 

History of Glitter and Blood by Hannah Moskowitz
Even to this day, I can't tell you exactly what happens in this book. It's an allegory for war and what people will do to survive war, but the war is between faeries and gnomes and the whole history of the races is being written down by an unreliable narrator in this weird entry format and WHAT IS GOING ON? I really liked this one, too.

American Gods by Neil Gaiman
Oh, you know, just a book about deities from different continents and religions all banding together to fight the new gods rising, like Media and Technology, sprinkled in with the history of people bringing their gods to America. Standard fare.
I've talked about my love for Dark Matter before, but can I talk about the fact that this deals with alternate realities, something I'm fascinated by but had to put 100% of my focus on. No drifting thoughts while reading this one, everyone!

House of Leaves by Mark Z. Danielewski
I started this last year and still haven't finished it, not because it's bad. My time with my library copy ran out and it was on hold for someone else. The format, however. is mind-boggling. Diary entries from one person, documents from another character, listed events from other characters. None of these people know each other but they are all connected, but the way the book is told is a true test to a reader. Some say the book is genius and very scary; others say it's pretentious. I still have to finish it, so I'll let you know. 🙂
Do you like weird books? Do you have weird book recommendations? Leave some titles in the comments. Thanks!