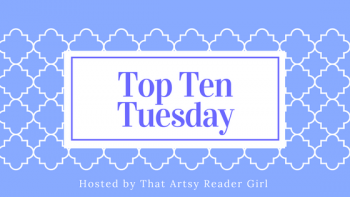 Top Ten Tuesday is hosted by That Artsy Reader Girl.
Happy 10th anniversary, Top Ten Tuesday! I've only been blogging for a few years but this is pretty exciting. Participants for this week's Top Ten were encouraged to take a different spin on a previously posted Top Ten–maybe look back on that Spring TBR list and see how you did–or post about a previous theme you wanted to do and do that. I went waaay back in the Top Ten categories, took notes of topics that caught my eye (because I am incredibly indecisive) and finally narrowed down my topic.
Today, I'm talking about the Characters I Wish Would Get Their Own Books. These are secondary and minor characters I was utterly fascinated by that I wanted to know more about, and I want them to have their own book today!
The grannies from Mooncakes–Not only is this a cute love story between two young people; Mooncakes also has the best grandmas! They were adorable, supportive, and I just love them and think they need their own spinoff book.
Martin from Gods of Jade and Shadow–Okay, so Martin is protagonist Casiopeia's whiny, pathetic cousin, but there's a potential story with how he plans to sort out his life. My review is here.
George from Words in Deep Blue–I think an expletive-filled book from the rude yet soft-hearted sister of co-narrator Henry would be bloody brilliant.
Doodle from Laura Dean Keeps Breaking Up With Me–I demand a book about the narrator of Laura Dean Keeps Breaking Up with Me's best friend. I want to know more about their friendship and how she's doing.
Jasper from The Graveyard Book–There is at least a 1,000 page tome that could be written for Bod's mysterious caretaker.
Roshar from The Winner's trilogy–Fellow Winner's fans, please tell me you'd read a book from this awesome guy's POV.
Isaiah from The Diviners series–If Libba Bray decides to go back to the world of the Diviners, let it be with Memphis's courageous younger brother.
Ember from A Constellation of Roses–Trix's shy, quiet cousin has quite a tale to tell.
Kitty or John Ambrose from the To All the Boys I've Loved Before series–Imagine the fierce Kitty as a high school student navigating life while taking names and getting into obvious trouble. Or John Ambrose because View Spoiler »he was the obvious choice « Hide Spoiler. Fight me on that.
Kade from the Wayward Children series–You can't just create a valiant character with a sad backstory and NOT write his book! Seanan McGuire has hinted that, when she feels this series is going to end, Kade's book will be the last one. As much as I adore these novellas, don't smash my heart as a reader and tell me he'll get his book when the series ends! *sobs forever*
Ziri from the Daughter of Smoke and Bone trilogy–Oh, sweet, precious cinnamon roll! My dear Ziri certainly won my heart just by being his quiet, stoic self. I would read his book.
Taryn from the Folk of the Air trilogy–Taryn, you complex secondary character, you! If you're like me and could not understand Jude's twin's motives until The Queen of Nothing, you'll know why I believe she deserves her own book. Jess over at Jessticulates has a fascinating post about Taryn here.
Which character do you think should get their own book?