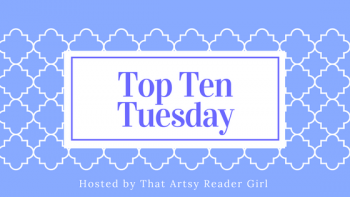 Top Ten Tuesday is hosted by That Artsy Reader Girl. 
Today's Top Ten is all about characters I'd like to switch places with. I had a lot of fun with this topic;  For one reason or another–most of them very selfish–here's a few characters I'd do the switcheroo with and why.
Lara Jean Song Covey from the To All the Boys I've Loved Before series
In the beginning of To All the Boys, Lara Jean kind of annoyed me with her naivete (although her panic about first driving a car is my story as well), but she is kind, generous, loving, and intelligent. Her closeness to her family is endearing, and her style and baking abilities are amazing. Although she didn't end up with the boy I wanted her to be with View Spoiler »*cough cough John Ambrose McLaren cough cough** « Hide Spoiler, sign me up to fill her vintage shoes!
Anna Olyphant from Anna and the French Kiss
I hated the romance in this book, which is a major deal since this is a romance. So you're probably wondering, "Leah, why would you want to trade places with the title character then?" The redeeming quality for me was that this takes place in Paris, France. She didn't want to go to boarding school in Paris. This baffles me. So I'll go to boarding school in Paris for her and avoid St. Clair, problem solved.
Moana from Moana
I LOVE Moana! She radiates awesomeness–from her fearlessness at facing the unknown to her love for her people (her bond with her grandmother is the best). That she would match wits with a narcissistic demigod while exploring the seas makes her even more amazing.
Vasya from the Winternight trilogy
I will not tire of my appreciation for the Winternight series, and my love for Vasya is no exception. She's strong, brave, and fiercely loyal to her loved ones. She also has the ability to see the other world of earth spirits and the lord of winter. Her legacy is legendary and it would be an honor to trade places with her for a day.
Sarah from Labyrinth
I joined the Labyrinth fanbase late, but after seeing the movie for the first time, I got the appeal. What a quest Sarah's is, traveling to the land of the Goblin King to save her baby brother. Meeting fantastical creatures (Ludo!) and the Goblin King himself is great, too.
Aventurine from The Dragon with a Chocolate Heart
Because who wouldn't want to be a tough dragon with a taste for chocolate?
Claire Randall/Fraser from the Outlander series
Very selfish reason for wanting to trade places with Claire. Aside from seeing Europe and trying to avoid being accused of witchcraft, I'd want to trade places with her to meet Jamie Fraser, the Scots warrior she meets when she time travels back to the 1700s. Leah Fraser has a nice ring to it, don't you think ? …I'll show myself out.
Which characters would you trade places with, and why?