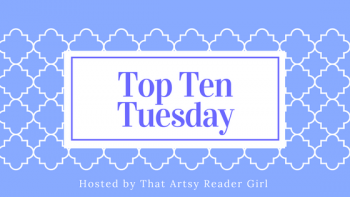 Top Ten Tuesday is a weekly feature hosted by That Artsy Reader Girl.
One year of 2019 is in the books. The second topic of the new year is supposed to be about our most anticipated reads for the first half of the year, but I would be repeating myself with some of my picks: The Winter of the Witch by Katherine Arden, In an Absent Dream by Seanan McGuire, and King of Scars by Leigh Bardugo. When this posts, I will be fully ensconced in the first two! So let's look at some things I'd like to seen explore more in books for all ages. I'll also include book titles for each category (Some I've read; some I've not).
The Villain's/Antagonist's Story
I know they're out there–I've read a few, but what I'm looking for are the ones that make the villain more than cartoony caricatures who do bad things just for the sake of being bad, and antagonists who are the heroes of their own story. Give me complex villains, give me antagonists which make me question if I'm rooting for the best person.
Examples: Forest of a Thousand Lanterns by Julie C. Dao; Six of Crows by Leigh Bardugo; Heartless by Marissa Meyer
Twisted History
Alternate history is something that fascinates me. For those who like to ask "What if…?" when it comes to historical events can see one person's ideas in fiction. "What if this war was won by this side?" "What if this person made this choice?" Sometimes, the answer is not exactly inspiring, but the exploration of it is.
Examples: Wolf by Wolf by Ryan Graudin; And I Darken by Kiersten White; Dread Nation by Justina Ireland
Friendships Between Members of the Opposite Sex
I don't know about you, but as much as I like my romances, I really like stories with non-romantic bonds, especially between boys and girls or men and women. Sometimes a book tries too hard to convince you that two people, usually guy and girl, are in love when you see them more as pals anyway. I'd rather have a concrete friendship between two people than a forced romance.
Examples: City of Ghosts by Victoria Schwab; The Apocalypse of Elena Mendoza by Shaun David Hutchinson; Hello, Universe by Erin Entrada Kelly
Retellings of  Not-So-Well Known  Myths, Legends, and Fairy Tales
I will never tire of retellings of Beauty and the Beast, but the more obscure fairy tales and myths, especially those of people of color, need love, too. And if an author takes a fairy tale while making it their own as well, what a treasure to be found. Check out the Rick Riordan Presents line for more books featuring the myths and legends of diverse cultures.
Examples: The Storm Runner by J.C. Cervantes; Strands of Bronze and Gold by Jane Nickerson; The Night Parade by Kathryn Tanquary
"Ambiguous Fantasy"
I think this happens more in adult literature, but I LOVE fiction where you don't know if there's a fantastical element or if the characters or the author are pulling your leg. Trying to figure out what the heck is going on makes "ambiguous fantasy" a joy. I can only remember one title off the top of my head.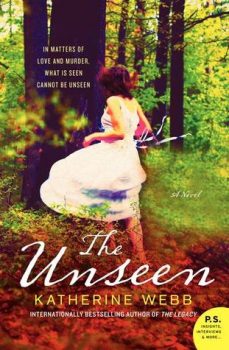 Example: The Unseen by Katherine Webb
What are your favorite topics in fiction?