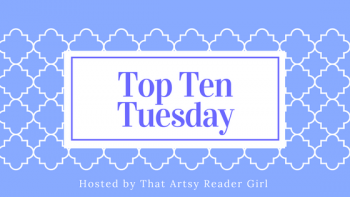 Top Ten Tuesday is hosted by That Artsy Reader Girl.
There are instances where I honestly don't know what to do with a book–do I or don't I read it? Today's Top Ten prompt is about upcoming books we're on the fence about reading. I have a few I want to talk about. Maybe by the end of this post I'll have the answers I need.
Steel Tide (Book 2 of the Seafire series, no release date set)
Seafire was a "meh" read for me. There were several loose threads thought that I was interested in seeing to completion, but do I really want to continue a series that was so-so?
Eight Will Fall by Sarah Harian (tentative release year: 2019)
On Goodreads, this is pitched as Six of Crows meets Suicide Squad. Not sure how to feel about that. And if there are eight main characters, will the characterization be strong enough to keep things moving?
The Deepest Blue by Sarah Beth Durst (tentative release date: March 19, 2019)
I've read two of Sarah Beth Durst's books: Ice and Enchanted Ivy. Both were exquisitely written and the covers were beautiful–but both stories were not mind-blowing. Dare I fall for the pretty cover but be disappointed in the story again?
Just My Luck by Jennifer Honeybourn (tentative release date: July 16, 2019)
I've given author second chances before, but do I give Jennifer Honeybourn one, too? Her first book was not my thing. Maybe it's time to see if her third book's the charm.
Again, But Better by Christine Riccio (tentative release date: May 8, 2019)
It's always exciting when someone in the bookish community gets their story on paper, but I'm legitimately wondering if I should read Again, But Better. The hype around this book is INSANE and my track record with over-hyped books has not been good.
What books are you deciding to or not to read? Which book do you think deserves a chance?