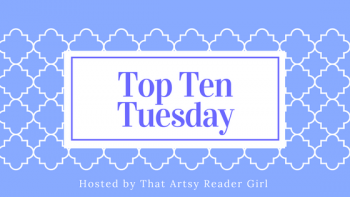 Happy Tuesday everyone! TTT is hosted by That Artsy Reader Girl.
I'm of the mindframe that I will never finish all the books on my bookshelf/TBR pile, so why not keep adding to the always expanding list? Necessary evil, my friends. Here are some of the additions to my personal library as well as a few books I've borrowed from work. Enjoy!

From Book of the Month
I switched over to the regular Book of the Month subscription in December, and I've been ensnared by the good picks so far.
Long Bright River by Liz Moore (This is the only one I've read as of now, and it was incredible).
The Sun Down Motel by Simone St. James
Things in Jars by Jess Kidd

Purchased
In keeping with my effort to not buy too many books (only books I really want to buy, NO impulse or FOMO buys), this is the pile I've grown since September. It doesn't really help the cause since most of the books I'm really excited come out in the next three months, but remember, necessary evil…and bookstore gift cards help, too. 🙂
Loveboat, Taipei by Abigail Hing Wen
Come Tumbling Down by Seanan McGuire
A Heart So Fierce and Broken by Brigid Kemmerer
The Bone Houses by Emily Lloyd-Jones
Blood Heir by Amelie Wen Zhao
Tunnel of Bones by Victoria Schwab

From the Library
A few of the books I've checked out recently.
Children of Virtue and Vengeance by Tomi Adeyemi
The Wives by Tarryn Fisher (I just finished this on audio–it's a major guilty pleasure read)
The Bromance Book Club by Lyssa Kay Adams (review coming soon!)
What are the new additions to your bookshelf/TBR pile? Have you read any of the books listed here? If so, what did you think?
*TTT title inspired by The Universe is Expanding and So Am I by Carolyn Mackler.