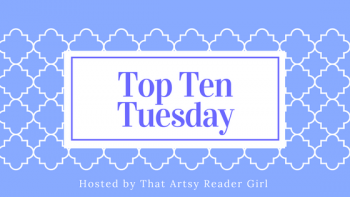 Happy Tuesday, everyone! Top Ten Tuesday is hosted by That Artsy Reader Girl.
It's almost Thanksgiving here in the U.S., but it's always a good time to be thankful for things. I try to be mindful and express at least one thing I'm grateful for each week. It's improved my outlook on things immensely. I was ticking off topics for this week's Thankful freebie post, and the only one I found the most perfect for this Top Ten is the most obvious. Here we go.
I'm thankful for…
Family and Friends
I'm very lucky that I have the nuclear family members I do. They have been with me through the highs and lows. They indulge my wacky ideas. They nudge me back to the surface when I feel like I'm going under. My best friend has been by my side since we were sophomores in high school. I couldn't ask for a better cheer squad.
My Home
When I was younger, I used to take advantage of having a home when not everyone does. I take a moment to express my thankfulness for the one I have.
Opportunities to Travel
There are so many places I want to visit, it makes my head spin. Each year, particularly on my birthday, I'm aiming to visit a place I've never been. Next year, I'm setting my eyes on traveling internationally. I'm thankful I have the chances to do so.
My Job
I don't just say this because I work in a library. I really do love my job. My coworkers are all awesome. The programs we offer through our system are top notch. I've met many wonderful people. I'm proud of what we're doing. And of course, being surrounded by books is a bonus.
My Faith
I don't talk a lot about my personal beliefs here, but I consider myself a spiritual person. Overall, I aim to be kind and compassionate to others and respect the world I live on. It's been a constant in my life and it's one I cherish.
Bibliophile wise, I'm thankful for…
 Books
I mean, obviously. 🙂
Author Events
I'm grateful to live in an area where authors frequently visit. It's been a while since I went to one, but that I can go to one is great.
People Who Inspire Readers
Storytellers. World builders. Daydreamers. Artists. Mostly, the are the people who inspired you to read. It could have been a parent or guardian, a sibling, a teacher, even a stranger you saw reading a book on the bus or at a coffee shop.
You
Yes, you. Thanks for checking out this blog. Thanks for leaving a comment. Thanks for what makes you you. 🙂