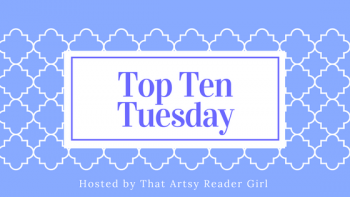 Top Ten Tuesday is a weekly feature hosted by That Artsy Reader Girl.
Happy Spring, everyone! Spring already, you say? I'm in shock, too. Spring is one of my favorite seasons–new life, the sun shines bright, the weather's not too hot or too cold. We've been blessed with a butterfly migration this year! Painted lady butterflies are making their way down from Mexico to the Pacific Northwest. It's truly magical seeing them make their way through L.A.
It also means making new book lists for the season. As I've said before, I'm a mood reader, and while I like the idea of creating a list and actually reading every single book on it, I have yet to stick to all the titles. I don't even think I read any of the books on my tentative winter TBR (EDIT: I actually read 4. Tiny success!) But I like making these lists and thinking one day I'll read all of them in their designated season. 🙂 Here's my tentative Spring TBR.
Aurora Rising by Amie Kaufman and Jay Kristoff
Wicked Saints by Emily Duncan
The Priory of the Orange Tree by Samantha Shannon
The City in the Middle of the Night by Charlie Jane Anders
The Raven's Tale by Cat Winters
Before the Devil Breaks You by Libba Bray
Shout by Laurie Halse Anderson
The Bone Sparrow by Zana Frallion
Serious Moonlight by Jenn Bennett
The Line Tender by Kate Allen
Maybe a Mermaid by Josephine Cameron
The Knife of Never Letting Go by Patrick Ness
What books are you reading this Spring?