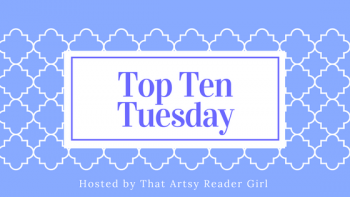 Top Ten Tuesday is hosted by That Artsy Reader Girl.
Happy (almost) Halloween, everyone! It's my favorite time of the year and I can't wait to celebrate it. After kicking around some ideas for this much-anticipated topic (Monsters? Scary places? Creepy quotes?), I had a flash of inspiration. There's nothing like reading a scary story or watching a scary movie. There's also nothing like doing the former and the latter as a kid. For today's Top Ten, we're going back to my formative years and exploring all the things which had me
Scary Stories to Tell in the Dark was the obsession of my elementary school. I was first introduced to the books in the third grade. The stories are fun and pleasantly creepy…but the illustrations are nightmare fuel. My copies were full of napkins, paper, anything so I wouldn't have to look at them. They've since been republished with new illustrations, which, to me, do not inspire the trauma the originals did. (Also want to add that the audiobooks are very good!)
It sounds silly now, but there's one story in R.L. Stine's collection that crept under my skin and has stayed there ever since. It's called "The Cat's Tale", and the whole premise had me pulling the bedsheets up to my ears at night because I was afraid of hearing something I didn't want to hear. I still love cats though.
When I asked my parents to buy me a copy of Edgar Allan Poe's works as a kid, I was excited to get reading. I was immediately entranced by his exquisite writing and wasn't even scared. Then I read "The Cask of Amontillado." Then I read "The Black Cat." Then I read "The Masque of the Red Death." There's a reason Mr. Poe is the master of suspense and horror. He's also a favorite author of mine.
All the catchy music could not make up for the horror that is Disney's take on The Legend of Sleepy Hollow. When Ichabod learns about the Headless Horseman, followed by a slow burn, marvelously creepy trek home through the woods, this short film proves a very scary experience.
While most of The X-Files is about conspiracies and finding the truth, there are some truly scary episodes sprinkled throughout its original 9 seasons. Several standalones are. Absolutely. Horrifying.
Pee Wee Herman was one of my childhood heroes, but there's a scene in Pee Wee's Big Adventure that had my sister and I running and hiding. On his quest to find his stolen bike, he hitchhikes and is picked up by a trucker called Large Marge. That's all I'll say about that.
I've only seen parts of the original Poltergeist, but of course it's all the scary parts. The little girl saying, "Theeey're here!" had the hairs on my arms standing up. "They?!" Who's "they?!" It just got so much more worse for me. Aside from supernatural forces, there's also a clown.
I used to wake up at 6 a.m to watch Real Ghostbusters even though 99% of the episodes scared me. One episode in particular is still stuck in my mind–the Ghostbusters' little sidekick Slimer is kidnapped by this giant of a ghoul…I shudder to think of it.
Sharks are awesome and, unfortunately, misunderstood. I like sharks now, but as a kid watching Jaws, not so much. I was afraid to take baths or shower after I saw this for the first time!
Ah, The Brave Little Toaster looks harmless, but it's chock full of traumatic moments. An AC unit that loses its cool. A junkyard of worthless cars. Appliances being taken apart. A dream involving a clown dressed as a fireman. Someone help me!
Now, off to banish those bad memories.
What are some things which scared you as a child?