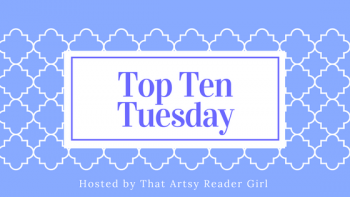 Happy Tuesday, everyone! Top Ten Tuesday is hosted by That Artsy Reader Girl.
Authors who have a fun social media presence? You got it! I'm basing my picks on Instagram since it's my primary platform for keeping up with the goings on of storytellers from around the world. Aside from bookish posts, here's what you can expect from some of my favorite Instagram authors.
Jay Kristoff
I mean, we can end this list right here since Jay Kristoff is the King of Instagram. He engages with fans and his sense of humor can't be beat.
Ransom Riggs
If you're looking for someone who takes awesome photos of his adorable family, travel, and the strangely cool, check out Ransom's account.
Roshani Chokshi
Beautiful travel photos with funny captions, you say? Family shenanigans, too? Pet photos? Follows immediately.
Tahereh Mafi
Follow Tahereh for mesmerizing style, family, and travel photos. It can't be beat.
Victoria Schwab
I like that Victoria keeps things on a grounded level. For motivation on writing and real talk on mental health, and the occasional dog photo–which, why doesn't that motivate you to follow her now?–follow her on social media.
Erin Morgenstern
The sheer beauty of Erin's photos, be it a sunset, a flower arrangement, or even a candle, is pure magic.
Randy Ribay
This guy is so underrated in my opinion. He's passionate about literature, always attending author events and recommending books. He also had a feature called Cooking with Randy that was so entertaining. I hope it makes a comeback.
Leigh Bardugo
Leigh provides motivation for living your best life blended with cool photos of the strange and bizarre. Plus, with the buzz about the Shadow and Bone adaptaion, updates on the production were a must. Shooting the show wrapped up recently. Now the long wait.
Laini Taylor
I had to include my queen on this list! Laini's travels with her loved ones and the artsy things she makes or finds on her journeys are a joy.
Who are your favorite authors to follow?