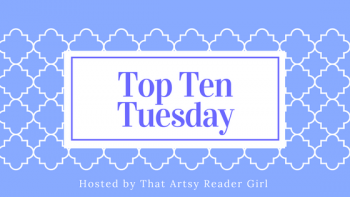 Top Ten Tuesday is hosted by That Artsy Reader Girl.
Ah, Goodreads. A wonderful source to connect with fellow readers, read and write reviews, and, of course, scroll for books that catch your interest. I didn't start taking Goodreads seriously until 2016, when I signed back in after a five year absence and fully realized the wonder–and trouble–the website can be. For you see, I have gone down the rabbit hole of clicking on a book that catches my interest only to have a list of other books similar to the one I'm looking at pop up too. This often leads to clicking on the "Want to Read" button, then scrolling through other books, and repeat. Soon I'm buried in more books I will possibly get to in my life. It's messy.
Today's Top Ten is a look at recent additions to my ever-expanding TBR list, courtesy of the gift and curse of Goodreads. For the sake of keeping this small, I'm only going to share a few because then we'll be here all year. Enjoy!
Adult
The Dreamers by Karen Thompson Walker
The House on Dalhousie by Melina Marchetta
The Raven Tower by Ann Leckie
Watching You by Lisa Jewell
Silver in the Wood by Emily Tesh
Middle Grade
Caterpillar Summer by Gillian McDunn
My Fate According to the Butterfly by Gail D. Villanueva
Just South of Home by Karen Strong
Young Adult (only added recently because I forgot to add it when I heard about it)
Shout by Laurie Halse Anderson
Do you use Goodreads? What are some recent additions to your TBR list you found?