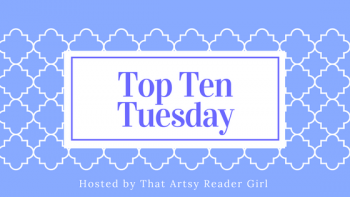 Happy Tuesday, everyone! Top Ten Tuesday is hosted by That Artsy Reader Girl.
In another series continuation, I present to you the latest additions to my DNF Files. These are the books I had to part ways with for varying reasons from Spring 2019 to now. Life's too short to continue with books you're not enjoying.
Wicked Saints — 203 pages (I was bored. To me, it felt like the book was trying too hard to be edgy. I was also creeped out by the amount of blood magic and the methods to get the=at blood, like I was with Blood Magic)
Dangerous Alliance — 104 pages (I wasn't emotionally invested in anything the book had to offer)
The Black Witch — 200 pages (Controversy aside, I wasn't invested in this book either. Too much girl hate and Mean Girl antics for me, and character names sound the same. It was like Lord of the Rings. First names: FIRST NAMES: Elloren; Eirllyn; Enith; Echo; Edwin; Aislinn; Shane; Sage; Paige; Rafe; Vivyan; Trystan; Fallon; Galen. LAST NAMES: Gaffney; Gardner; Grey; Greer; Guriel; Vogel; Volya; Bane)
Fix Her Up — 76 pages. (Could not deal with the "hero" and his scummy behavior. I could not with the constant reminders–about two times a page–that the heroine works as a party clown. View Spoiler »The last straw was the "hero" complaining that the heroine was like a little sister and yet he wanted her because she was a virgin. GROSS)  « Hide Spoiler
The Girl Who Could Move Sh*t With Her Mind — I think about 16 pages. (The plot sounded fun but alas, the narrator ruined the book for me)
Topics of Conversaion — 6 pages. (Oof, this was probably the fastest I've ever DNFed a book. Very pretentious writing style peppered with comma splices for unknown reasons.)
Have you DNFed a book(s) recently? What were they and why?