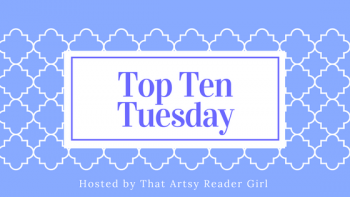 Happy Tuesday everyone! TTT is hosted by That Artsy Reader Girl.
You know I love my beautiful book covers. I have written several posts here highlighting some of my favorites and how I've been suckered into buying a book for the cover alone. The struggle is real to keep that from happening now. But with the good, comes the questionable. This Top Ten post focuses on the covers I think are the more bizarre, what-is-going-on-here? variety.
A few disclaimers: All of these opinions are my own. Most of the time, authors do not have creative control over their covers.  Some of these might be considered a little risque as well–another disclaimer will be posted for the covers I use for that part.

Enjoy!
Lovely War by Julie Barry
I like the premise of the book very much. The cover…leaves little for me to desire. I don't like the way the girl's face is cut off or the soldier perched on her shoulder like a parrot.


As Many Nows As I Can Get by Shana Youngdahl
I think the color schemes for this cover are great. However, the juxtaposition of the boy and girl's faces, separated by the road, I'm not a fan of.


Sisters by Daisy Johnson
There's something truly disturbing about this woman's image being cut up and reassembled the way it has. *adds to To Read list immediately*


Dead Astronauts by Jeff Vandermeer
This is a symphonic, technicolor blast of psychedelic wonder is there ever was one. What is going on?


Who Stole the Hazelnuts? by Marcus Pfister
I don't know about you, but this cover illustration makes me want to run away from this picture book. Why does this squirrel's ear have what looks like a hand growing out of it? Why does this squirrel's paw look like a slightly human hand, a la Cats?! I have so many questions but I'm scared of the answers.


Swan Song by Robert R. McCammon
I saw this in a bookstore when I was a kid and thought this was really scary. What's with the face? Now I kind of want to read it for the campy cover, although the reviews for the contents say this is pretty scary.

Summerwood and Winterwood by E.I. Chen
I don't know which is more strange, the screaming, floating, bleeding stag head on the left, or the floating disembodied head on the right.


Risque covers ahead! PROCEED WITH CAUTION!
.
.
.
.
.
.
Gray Hawk's Lady by Karen Kay
Ah, bodice rippers back in the day were all about the hunky shirtless guy and the demure woman usually in a flowy gown. Although, now that I think about it, that still happens. Hm…


Beneath a Midnight Moon by Madeline Baker
I felt so grown up when, as a fifteen year old, I bought a money order (props to you if you remember those) and ordered this from the publisher because the plot sounded cool. I was not expecting this cover with its scantily clad cover models. I don't think I could have purchased this at a bookstore. I put a book cover on this and would sneak it to school to read.


What are some book covers that made you ask questions?