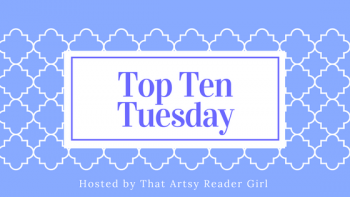 Top Ten Tuesday is a weekly feature hosted by That Artsy Reader Girl.
Happy New Year, fellow book lovers! After a shaky and sometimes bleak 2018, I am hopeful for good things for everyone. Let's make it a wonderful time. In honor of this shiny first day of 2019, I'm sharing some of my bookish resolutions.
Read more outside my favorite genre
I've made this resolution for the past two years. I love fantasy. It is my bread and butter, my life, my soul, but I know there are plenty of good books that are not fantasy. But I do plan on reading my much anticipated releases of 2019, and if they so happen to have magic, the paranormal, witches, dragons, or the like…well, it's the thought that counts. 😀
Find more #ownvoices novels
I've been pretty good at finding diverse books but when it comes to Own Voices authors, I could improve. If anyone has any recommendations, I'd be happy for them.
Check out a few classics 
Remember when I said I skimmed a majority of my assigned reading in high school? Maybe it's time to remedy that by actually reading some classics. I already have a few in mind I'm looking forward to.
Read a Sarah J. Maas book!
Another year, another Maas book going unread. I'm actually kind of scared about reading her work because the hype is insane. I'm trying to shake that off.
Re-read some favorites 
I used to hate re-reading but I've slowly realized that it actually is worthwhile, especially if you're revisiting a book you loved. So I'm going to go back to some old favorites (I'm currently re-reading the first two Winternight books and I'm rediscovering the magic of the series all over again).
Don't buy so many books!
I have done a pretty good job with not buying as many books this year compared to others, but I work in a library! Materials are available for checkout. Also, it lets me save more. I want to travel internationally and I know cutting back on book buying will greatly help.
Finish my book–and prepare it for agents
This one's more bookish than anything and definitely the scariest one on the list. I've been chipping away on this idea and after a few different incarnations I finally found one that works for me. It's depressing and heartbreaking to write but I have to write it, and I'm vowing this is the year I finally stop saying I want to be published and actually take the steps to make it happen.
May your days be filled with good moments and good books.
Do you make bookish resolutions? What are you looking forward to for 2019?