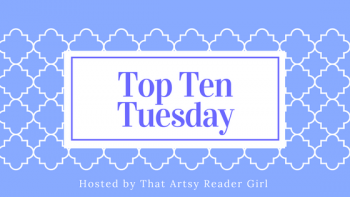 Top Ten Tuesday is hosted by That Artsy Reader Girl.
Hello, everyone! Have you ever seen this "If you like this, try this?" displays in a store or website? I like checking out the bookish ones because they usually lead me to some books I wouldn't have considered reading. Today, I'm going to try my hand at it for Top Ten Tuesday. I mentioned books with low Goodreads ratings before, so with this list, we'll look at some wildly popular books that I'll pair with under-the-radar or little-known titles that feature the same content. If you or anyone has made a list like this, let me know so I can check it out.
If you liked Turtles All the Way Down by John Green, try Everything All At Once by Katrina Leno
Are you looking for a book featuring mental health? Do you like reading about friendships that unite people in unexpected ways? Everything All At Once might be the book you're looking for. Turtles All the Way Down wasn't really my thing, but I've heard excellent things about Everything All At Once.


If you liked Caraval by Stephanie Garber, try By a Charm and a Curse by Jaime Questell
Do you like mystery? Are magical circuses and/or carnivals your thing? Consider By a Charm and a Curse to get you into the intrigue of a carnival with dark intrigue. I thought Caraval was just okay and still have to read By a Charm and a Curse.

If you liked The Cruel Prince by Holly Black, try Bones of Faerie by Janni Lee Simner
Finally, two books recommendations I've read! Are you fascinated by faeries? Does the concept of scary magic and creepy faeries make your heart race? If you enjoyed the fickle Folk of Holly Black's novels, try the post-apocalyptic, magic-seeped world of the Bones of Faerie series.

If you like I'll Give You the Sun by Jandy Nelson, try Phantom Limbs by Paula Garner, or Words in Deep Blue by Cath Crowley
Did you fall in love with the dreamy writing of I'll Give You the Sun? Were you captivated by the emotional journeys of the main characters? Then please check out the quiet beauty of either Phantom Limbs or Words in Deep Blue. Each book is a look at death and the slow healing of the characters and the power of memory. Sam at WLABB understands my love for Words :).
Have you read any of the books listed? Which books would you add to the list? Which popular books and little-known books would you pair up?