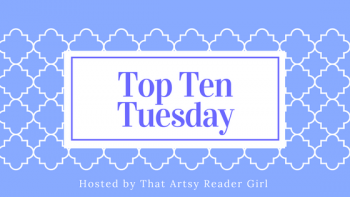 Happy Tuesday, everyone! Top Ten Tuesday is hosted by That Artsy Reader Girl.
Hello! Today's Top Ten was supposed to be about the books we wished we'd read as a child, but I'm a firm believer that it's never too late to read that book. So I'm going rogue and backtracking to the topic from a few weeks ago: Books I love but hardly talk about. I didn't complete this one for the plain reason that…I forgot. *nervous laugh* But it's not too late to chat about these titles. Let's begin!
Books I Read Before I Blogged
Books I Adored But Never Reviewed
Books I've Reviewed Here But Feel Need More Attention
Thanks for stopping by!