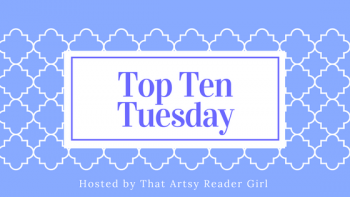 Hello, and welcome back to another edition of Top Ten Tuesday, hosted by That Artsy Reader Girl.
The Brown Sisters books by Talia Hibbert–These books are so much fun and incredibly steamy romances. They make me smile because of the fun banter between the characters. Whether it's between the love interests or between the sisters themselves, there's hardly a moment when I'm not grinning in glee. Are you reading these books? YOU MUST!


The Bromance Book Cub series by Lyssa Kay Adams–Come on, how could I resist a series involving so-called "alpha males" that secretly read romance novels to better themselves. This series is also quite steamy and has enough shenanigans to keep me smiling and laughing. I haven't read book 3 yet but I already know hilarity will ensue.


The Prince and the Dressmaker by Jen Wang–This graphic novels is full of feel-good moments that make me smile. My joy was boundless during a moment near the end of the book. Even thinking of it now, I'm grinning.


The Unicorn in the Barn by Jacqueline K. Ogburn–Everyone, there are unicorns in this book. I'm a simple woman: I see a book that has unicorns and I need to read it. Aside from my favorite mythical creature, The Unicorn in the Barn is also a cute friendship story. The illustrations are wonderful, too! Everything about this book is worth smiling about.
What books make you smile?