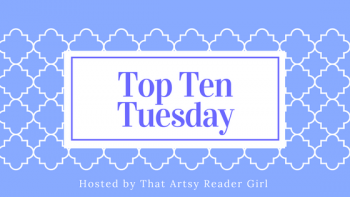 Top Ten Tuesday is a weekly feature hosted by That Artsy Reader Girl.
Hello, everyone! Every year (usually around early December), I hit a rough patch with my reading. Picking up a book feels impossible. My Annual Reading Slump has caused me to crawl to my reading goal finish line several times. It's just part of the ebb and flow of things for me.
Since everyone's different reading wise, I can't really give recs to pull someone out of a reading slump, so I tweaked the theme of this week's Top Ten to showcase some books that had me pinned to my seat and tearing through the pages. Some of these actually helped me with my reading slumps.
Mockingjay and Siege and Storm
Mockingjay was read the day it came out in bookstores. My cousin and I read it together, stopping occasionally to look at each other in horror when a character we cared about died (which if often!)
After the way Shadow and Bone ended, the second book in the Grisha trilogy was a must own. What really made the experience bingeworthy for me was Sturmhond.
To All the Boys I've Loved Before and The Secret Life of Bees
To All the Boys is just so adorable and fluffy, it makes for a quick read.
A perfect last days of summer read, Secret Life is full of Southern charm and warmth.
The Lovely Bones and The Girl With All the Gifts
These books are sad. They are not light or cute. But I found The Lovely Bones and The Girl With All the Gifts compelling. I thought about them a lot after reading them.
The Bear and the Nightingale and A Poison Dark and Drowning
Ah, Bear and the Nighingale. I don't like this book–I love this book!
You want to talk about a sequel living up to its predecessor, and Poison delivers.
Caraval and Daughter of the Pirate King
So, I wasn't the biggest fan of either of these books, but Caraval and Daughter both had me racing through the pages.
Which books got you out of a reading slump? Which books couldn't you put down or read past your bedtime?