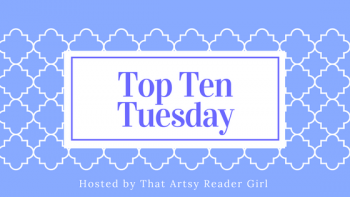 Happy Tuesday, everyone! Top Ten Tuesday is hosted by That Artsy Reader Girl.
Woohoo, it's almost Halloween! It's my favorite holiday, best known for being the time when the veil lists between the worlds of the living the dead and spirits walk the earth. It's also known for even scarier things. I was racking my brain for hours trying to come up with a topic that is also an homage to my favorite day, and I decided we would look at some books that deal with the unknown. Things and places just beyond our understanding, where myth is as real as a name, where monsters can look and act like people. Let's go through the veil into these realms.
The Graveyard Book by Neil Gaiman–Because this would not be my list without it.
The Diviners by Libba Bray
Something Wicked This Way Comes by Ray Bradbury
The Girl with All the Gifts by M.R. Carey
The Hunger by Alma Katsu
Not Even Bones by Rebecca Schaeffer
This Savage Song by Victoria Schwab
A Taste for Monsters by Matthew Kirby
City of Ghosts by Victoria Schwab
Certain Dark Things by Silvia Moreno-Garcia
Ninth House by Leigh Bardugo
The Bone Houses by Emily Lloyd-Jones
Imaginary Friend by Stephen Chbosky
Happy Halloween! What are some of your favorite books dealing with the unknown?