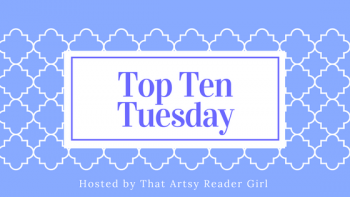 Hello, and welcome back to another edition of Top Ten Tuesday, hosted by That Artsy Reader Girl.
Ah, book festivals. Nothing beats getting together with fellow bibliophiles over your shared love of all things bookish. Alas, this is not the year for attending book festivals or conventions in person, but there has been the move to virtual fests. Consider this my list of events I'd like to see one day. 🙂
An ALA convention, any town, USA
Yallfest in Charleston, South Carolina, USA
Paris Book Festival, Paris, France, Europe
Bay Area Book Festival of Berkeley, CA, USA
Edinburgh International Book Festival in Edinburgh, Scotland, UK
Toronto International Festival of Authors in Toronto, Ontario, Canada
The Fay B. Kaigler Children's Book Festival in Hattiesburg, Mississippi, USA
Brooklyn Book Festival, Brooklyn, NY, USA
Which book events do you want to go to?