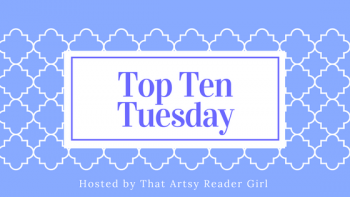 Top Ten Tuesday is a weekly feature hosted by That Artsy Reader Girl.
"What's in a name?" To me, a good name is one that I'll always remember. Most of the time it's because I like the way it sounds. Here are my picks of names from different book genres that stood out to me.
Stellaluna from Stellaluna. Her name means "star" and "moon." <3
Kaz Brekker from Six of Crows. It's almost unfair to put him on the list, but I can't not.
Delilah "Lila" Bard from the Shades of Magic series. Her name is just so butt-kicking.
Nobody "Bod" Owens from The Graveyard Book, one of my favorite characters of all time.
Lazlo Strange from Strange the Dreamer. Best name for a bookish hero.
What a polarizing name Caparace Clavicle Moundshroud is from The Halloween Tree. This name has stuck with me since I was a kid.
There are so many good names in A Game of Thrones–Jon Snow, Arya Stark, Jorah Mormont, Joffrey Baratheon (he's horrible but his name has a nice ring). But shoutout to the Mother of Dragons, Daenerys Targaryen.
For Outlander, they all belong to James Alexander Malcolm Mackenzie Fraser.
Guys. There's a little shadow creature in Nevernight called Mr. Kindly. Can that be any more cool?
If we're going to end this list, let it be with one of my longest running fictional character crushes: Bruce Wayne, aka Batman.
What are some of your favorite character names? I'd love some recs!