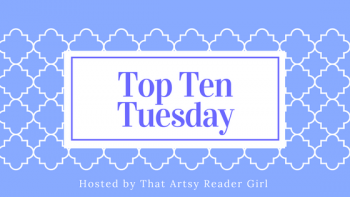 Happy Tuesday, everyone! Top Ten Tuesday is hosted by That Artsy Reader Girl.
Isn't it heavenly when you see a book that has an interesting title? Something about the way it sounds or looks just speaks to you. I appreciate a good title, and there have been a lot that have caught my attention while I'm cruising the library or bookstore aisles. Here are some book titles that have demanded my notice over the years.
The Astonishing Color of After
Not only is the cover beautiful, that title raises all sorts of questions. What is After referring to? What does color have to do with After?
The Day I Sold My Dad for Two Goldfish
What am I seeing? Is this real? It is real!
I Have No Mouth and I Must Scream 
I saw this title recently at the bookstore and my eyebrows flew up in astonishment.
The Girl Who Circumnavigated Fairyland in a Ship of Her Own Making
I mean, this is a kick ass title. 
The Knife of Never Letting Go
Again, this title raises so many questions. Is this knife real? Metaphorical? Never letting go of what?
The Particular Sadness of Lemon Cake
I didn't know lemon cake could be sad. I was wrong. 🙂
Is Kissing a Girl Who Smokes Like Licking an Ashtray?
I saw this in a bookstore when I was about thirteen and bought it based on the title alone. I felt so mature buying a book with an edgy title like this. Oh, to be young sometimes. (The book was okay, if I recall. I might have to read it again if I can find it).
What It Means When a Man Falls from the Sky
This title sets my imagination on fire and I plan to read this book soon.
A Taste for Monsters
Hello, intriguing title! Monsters, you say? I'm very interested.
The Long Way to a Small, Angry Planet
Another gift of a title that grabs you. I've heard many good things about the book, and it all startled with this title.
The Universe is Expanding and So Am I
Wow. This one just demands to be noticed.  To me, it speaks to people who are wondering about their self image on a humorous yet knowing manner.
How to Keep a Boy from Kissing You
Dare I hope this promises hate-to-love romance? You got my interest on the cadence of this title.
The Salt God's Daughter
How do I love thee, mystical, magical title? Let me count the ways! It promises all this and many more things I adore.
What are some interesting book titles you've seen?