So I have a bunch of mini-reviews from the past couple of weeks and since I've been pretty MIA when it comes to blog posts these past two-three weeks due to Camp NaNoWriMo, I thought I'd share them all in one go! Whew, long sentence. Okay. Let's get to it, shall we?
Denton Little's Deathdate
by
Lance Rubin
Series:
Denton Little #1
Published on
April 14th 2015
by
Knopf Books for Young Readers
Genres:
Young Adult
,
Science Fiction
,
Contemporary
Format:
Hardcover
Source:
Won in giveaway
Amazon
|
BookDepository
|
Goodreads
Fans of John Green and Matthew Quick: Get ready to die laughing.

Denton Little's Deathdate takes place in a world exactly like our own except that everyone knows the day on which they will die. For Denton, that's in just two days—the day of his senior prom.

Despite his early deathdate, Denton has always wanted to live a normal life, but his final days are filled with dramatic firsts. First hangover. First sex. First love triangle—as the first sex seems to have happened not with his adoring girlfriend, but with his best friend's hostile sister. (Though he's not totally sure—see, first hangover.) His anxiety builds when he discovers a strange purple rash making its way up his body. Is this what will kill him? And then a strange man shows up at his funeral, claiming to have known Denton's long-deceased mother, and warning him to beware of suspicious government characters. . . . Suddenly Denton's life is filled with mysterious questions and precious little time to find the answers.

Debut author Lance Rubin takes us on a fast, furious, and outrageously funny ride through the last hours of a teenager's life as he searches for love, meaning, answers, and (just maybe) a way to live on.

Okay, so I'm not sure if this'll be a long review or not because I kinda just want to do a full review of the whole series, but I do have some things to say. So here we go.
When I first started this book, I was reading it wrong. Yes, there is a wrong way to read this. I took everything way too serious and that's not the way to go with this one. At all. You have to kind of suspend your logic and take barely anything serious and you'll have a blast. Because this book is weird and kind of really hilarious. It's fast-paced and fun and action-filled (surprisingly). It's full of awesome characters and plot twists and you end up wondering "Will Denton live or not??" all the time. Though that part was kind of a bit spoiled for me because I know there's a sequel and its title kind of tells you the answer.
There is a really serious question lying underneath though. Because, if you know what day you'll die… Would you life life to its fullest or would it feel like there's no point if you'll die young? And I liked that this weird, funny book had that serious part. I always appreciate that.
Last thing I'll say is that I constantly misread the title for Denton's Little Deathdate instead of Denton Little's Deathdate. Cause I'm so stoopid. But yes, you should read this. It's funny, it's weird and it's original and I do recommend it. Lots.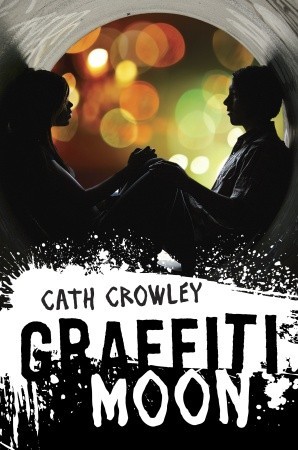 Graffiti Moon
by
Cath Crowley
Published on
February 14th 2012
by
Knopf Books for Young Readers
Genres:
Young Adult
,
Contemporary
,
Romance
Format:
Hardcover
Source:
Library
Amazon
|
BookDepository
|
Goodreads
Also by this author:
Words in Deep Blue
,
Words in Deep Blue
Senior year is over, and Lucy has the perfect way to celebrate: tonight, she's going to find Shadow, the mysterious graffiti artist whose work appears all over the city. He's out there somewhere—spraying color, spraying birds and blue sky on the night—and Lucy knows a guy who paints like Shadow is someone she could fall for. Really fall for. Instead, Lucy's stuck at a party with Ed, the guy she's managed to avoid since the most awkward date of her life. But when Ed tells her he knows where to find Shadow, they're suddenly on an all-night search around the city. And what Lucy can't see is the one thing that's right before her eyes.
Part of me really wanted to be able to say something along the lines of "there are so many raving reviews of this book already, mine won't make much of a difference". But I can't. Because while I enjoyed this book quite a bit, I didn't adore it as much as everyone else did.
So obviously the writing is gorgeous. Everyone said it already in their reviews so I'm just going to repeat that. But that doesn't mean it's flawless. Because while the writing is beautiful, at times it was also confusing to me. There are lots of sort-of kinda not really flashbacks and I'm still not sure if they were completely necessary. Not all of them were, I think. And the only difference between past & present was the tense. I also had this problem where I kind of loved Poet's chapters more than the rest and just really wanted to skip the rest of the story and just read his. But I didn't, because the rest was still good too. Though maybe a bit slow sometimes.
The story takes place over the course of one night only. And that made it a bit slow for me at times. Especially with all those flashbacks thrown in. I loved the characters, mostly. Though I never really got to know them as well as I hoped I would. It felt like I never really got beyond the outer layers of their personalities. And I'm probably the only one that feels this way. Which I don't like. But I did like them overall and I loved the humor sprinkled in and their dialogue. I wasn't a big fan of Lucy though. Not at first. And then kinda in the end. I'm really conflicted here, obviously. Also, I never really had the feeling that this was set in Australia? And outside of some Aussie terms here and there (mostly "arse", which can also be confused with Irish), there wasn't anything in how they spoke that screamed "Australian" to me.
But I did enjoy this book quite a bit and I still recommend it a lot. If only to read Poet's poem called "The Daytime Things", which is my favorite part of the book by far and the reason I'm rounding up here on Goodreads. So definitely check this one out, if you can.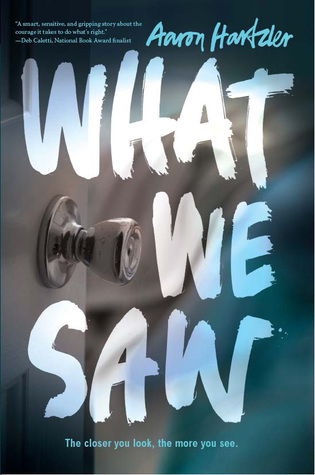 What We Saw
by
Aaron Hartzler
Published on
September 22nd 2015
by
HarperTeen
Genres:
Young Adult
,
Contemporary
Format:
Hardcover
Source:
Library
Amazon
|
BookDepository
|
Goodreads
The party last Saturday night is a bit of a blur.

Kate Weston can piece together most of the bash at John Doone's house: shots with Stacey Stallard, Ben Cody taking her keys and getting her home early—the feeling that maybe he's becoming more than just the guy she's known since they were kids.

But when a picture of Stacey passed out over Deacon Mills's shoulder appears online the next morning, Kate suspects she doesn't have all the details, and begins to ask questions.

What really happened at the party after she left?

Who was still there?

What did they see?

When Stacey levels charges against four of Kate's classmates, the whole town erupts into controversy. Facts that can't be ignored begin to surface, and every answer Kate finds leads back to the same question:

Where was Ben when a terrible crime was committed?

This story—inspired by real events—from debut novelist Aaron Hartzler takes an unflinching look at silence as a form of complicity. It's a book about the high stakes of speaking up, and the razor thin line between guilt and innocence that so often gets blurred, one hundred and forty characters at a time.

Wow. I don't even know what to say right now. This book is powerful and real and it hurts. But it's also beautiful and hopeful with sweet moments prinkled in between. This book made me sick to my stomach. It made me cry. It made me angry and disgusted. But it also made me smile and swoon and even laugh out loud. This book is a rollercoaster of emotions and everyone should read it. It's so important that you do.
I could write a full review of it, but I don't think I can do it justice. After all, what can I say that hasn't been said already? But since you're here for my opinion (at least that's what I assume), I'll just say I loved this book with all my heart. I'll just say I loved the writing because it was so beautiful. I loved Kate for being a great main character who I could relate to a whole lot. I loved this book for the message it sends. I loved this book, and I'm pretty sure you will too.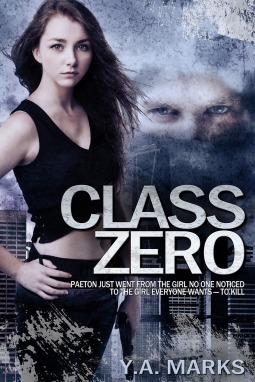 Class Zero
by
Y.A. Marks
Series:
Class Zero #1
Published on
May 24th 2016
by
Sugarstone Publishing
Genres:
Young Adult
,
Science Fiction
Format:
eBook
Source:
Author
Amazon
|
Goodreads
I'm sixteen. I'm p*ss poor, and I steal to eat. Me? My life is great.

In my brilliance, I "adopted" two hungry orphans. When I'm not with them, I avoid every human being I can, trying to keep the kids safe and protected. It's pretty easy to do because half the country lives in abject poverty.

A week ago, I treated myself to a cup of coffee, and ran into a mysterious boy with intense gray eyes. After a security drone worth billions blew up above my head, he chased me down to simply tell me that "change was coming."

"What?"

When I got back to the homeless shelter, where I live, guess what was on TV? Me and the gray-eyed idiot who happened to have half his face covered. Unfortunately, I wasn't so lucky.

Oh, but there's more! The government, which shoots first and asks questions later, not only think that I'm a part of a rebel organization that they've been trying to eradicate for the last seven years, they actually believe that I'm the leader.

I could stop there with joy, but unfortunately the government kidnapped the two orphans—my two orphans. That's when they really started to tick...me...off.
This was a really solid start to a dystopian series that I actually enjoyed more than I thought I would. And I'm curious to see where it goes from this point forward.
I liked the characters and their interactions but I feel like they could've been fleshed out more. Or smoothed out. Because sometimes the relationships felt very natural and other times it felt very stiff and awkward. The romance is a prime example of that and I think most of the dialogue that felt stiff came from them. I would've liked for it to be more in the background and have the main character Paeton focus on finding "her" kids more and learn how to live with her new reality of being an enemy of the government.
I do like Paeton as a character, though and the development I saw in her in this book. I love that she can take care of herself and isn't the perfect special snowflakes dystopians tend to have. I like a strong heroine. The side-characters were also all very likeable and I want to get to know them more. I also liked the world the author created. It's similar to the world we live in, but more enhanced. I loved the new-ish technology and how he found an easy way to explain what it all was. It was never too info-dumpy. The ending was a tiny bit confusing to me because it happened so fast and I still don't quite get what happened. That might be just me though. I tend to get confused with fast-paced action scenes and stuff. I blame my contemporary-brain for that.
I think this series has a lot of potential and I'm really curious to see where it goes. So do check it out if you like YA Dystopian series.