This book may be unsuitable for people under 17 years of age due to its use of sexual content, language, and/or violence.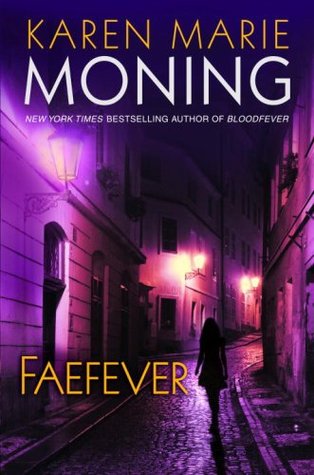 Faefever (Fever, #3)
by
Karen Marie Moning
Pages:
327
Published on
September 16th 2008
by
Delacorte Press
Format:
Hardcover
Source:
Library
Amazon
|
B&N
|
Goodreads
Also by this author:
Darkfever (Fever, #1)
,
Bloodfever (Fever, #2)
The New York Times bestselling author of Darkfever and Bloodfever returns to Dublin's Fae-infested shores in a bold, sensual new novel. Hurtling us into a realm of seduction and shadows, Karen Marie Moning tells the enthralling tale of a woman who explores the limits of her mysterious powers as she enters a world of ancient sorcery—and confronts an enemy more insidious than she could ever have imagined.




He calls me his Queen of the Night. I'd die for him. I'd kill for him, too. When MacKayla Lane receives a torn page from her dead sister's journal, she is stunned by Alina's desperate words. And now MacKayla knows that her sister's killer is close. But evil is closer. And suddenly the sidhe-seer is on the hunt: For answers. For revenge. And for an ancient book of dark magic so evil, it corrupts anyone who touches it.

Mac's quest for the Sinsar Dubh takes her into the mean, shape-shifting streets of Dublin, with a suspicious cop on her tail. Forced into a dangerous triangle of alliance with V'lane, an insatiable Fae prince of lethally erotic tastes, and Jericho Barrons, a man of primal desires and untold secrets, Mac is soon locked in a battle for her body, mind, and soul.

As All Hallows' Eve approaches and the city descends into chaos, as a shocking truth about the Dark Book is uncovered, not even Mac can prevent a deadly race of immortals from shattering the walls between worlds—with devastating consequences.…
I continue to be impressed with the heights Karen Marie Moning is willing to take readers to with the Fever series. It's so unpredictable and unputtdownable. Faefever is my favorite of the bunch. Just when I thought it could not get any worse, it does. Oh, good gracious, does it get worse.
Mac's quest for the mysterious Sinsar Dubh (Dark Book) of the Unseelie King has her realizing that she has to make new alliances with other people. Seeing as the men who are constantly keeping things from her keep doing so, I get it. Secondary characters, like young sidhe-seer Dani O'Malley and Scottish student Christian MacKelter (a familiar surname from her Highlander series) are given more time to shine.
Mac also learns new ways of defending herself, even creating new lines of defense. She continues to surprise me with her character growth. It's a very slow metamorphosis, although still very compelling. The inevitable does happen and the way Moning describes it is gut-wrenching. I sat in stunned silence after I closed the book. Good thing I had the next one on hand.
This book may be unsuitable for people under 17 years of age due to its use of sexual content, language, and/or violence.
Dreamfever (Fever, #4)
by
Karen Marie Moning
Pages:
386
Published on
August 18th 2009
by
Delacorte Press
Amazon
|
B&N
|
Goodreads
Also by this author:
Darkfever (Fever, #1)
,
Bloodfever (Fever, #2)
MacKayla Lane lies naked on the cold stone floor of a church, at the mercy of the erotic Fae master she once swore to kill. Far from home, unable to control her sexual hungers, MacKayla is now fully under the Lord Master's spell.…In New York Times bestselling author Karen Marie Moning's stunning new novel, the walls between human and Fae worlds have come crashing down. And as Mac fights for survival on Dublin's battle-scarred streets, she will embark on the darkest—and most erotically charged—adventure of her life.

He has stolen her past, but MacKayla will never allow her sister's murderer to take her future. Yet even the uniquely gifted sidhe-seer is no match for the Lord Master, who has unleashed an insatiable sexual craving that consumes Mac's every thought—and thrusts her into the seductive realm of two very dangerous men, both of whom she desires but dares not trust.

As the enigmatic Jericho Barrons and the sensual Fae prince V'lane vie for her body and soul, as cryptic entries from her sister's diary mysteriously appear and the power of the Dark Book weaves its annihilating path through the city, Mac's greatest enemy delivers a final challenge.…

It's an invitation Mac cannot refuse, one that sends her racing home to Georgia, where an even darker threat awaits. With her parents missing and the lives of her loved ones under siege, Mac is about to come face-to-face with a soul-shattering truth—about herself and her sister, about Jericho Barrons…and about the world she thought she knew.
Um. I don't know if I'm supposed to feel the way I do. (Most likely no).  While Faefever took the series to astonishing feats, Dreamfever was disappointing. It's supposed to be an empowering part of Mac's character, but there are so many iffy choices from different characters. Barrons' take on how to help Mac was…uncomfortable. While I applaud Mac for stepping up, her constant talk about how she's going to get revenge starts of wear thin.
As always, the world building pulls you in. I was constantly entranced by Moning's creations of Faerie. The Hall with its mirrors leading to parallel worlds where even the mirrors don't show the truth, the dangers, the consequences of choices, these are all well done.
The series, while taking a small stand still with Dreamfever, is still compelling.