This book may be unsuitable for people under 17 years of age due to its use of sexual content, language, and/or violence.
Darkfever (Fever, #1)
by
Karen Marie Moning
Pages:
309
Published on
October 31st 2006
by
Delacorte Press
Genres:
Adult
,
Fairies
,
Urban Fantasy
Format:
Hardcover
Source:
Library
Goodreads
Also by this author:
Faefever (Fever, #3)
,
Dreamfever (Fever, #4)
Librarian Note: Alternate/new cover edition for ISBN# 9780440240983.

"My name is MacKayla, Mac for short. I'm a sidhe-seer, one who sees the Fae, a fact I accepted only recently and very reluctantly.




My philosophy is pretty simple - any day nobody's trying to kill me is a good day in my book. I haven't had many good days lately. Not since the walls between Man and Fae came down. But then, there's not a sidhe-seer alive who's had a good day since then."

When MacKayla's sister was murdered, she left a single clue to her death, a cryptic message on Mac's cell phone. Journeying to Ireland in search of answers, Mac is soon faced with an even greater challenge: staying alive long enough to master a power she had no idea she possessed - a gift that allows her to see beyond the world of man, into the dangerous realm of the Fae.

As Mac delves deeper into the mystery of her sister's death, her every move is shadowed by the dark, mysterious Jericho...while at the same time, the ruthless V'lane - an alpha Fae who makes sex an addiction for human women - closes in on her. As the boundary between worlds begins to crumble, Mac's true mission becomes clear: to find the elusive Sinsar Dubh before someone else claims the all-powerful Dark Book - because whoever gets to it first holds nothing less than complete control both worlds in their hands.

The Fever series was one I've been meaning to get to, and this was the year I decided it was going to happen. Little did I know that this series would become my bread and butter for the past month. Darkfever is rich in world building, intrigue, and secrets that had me flipping the pages quickly.
MacKayla Lane is a sheltered young woman. Considering her upbringing,  there are times when she acts more like a kid trying to be an adult. But once she learns that she can see the Fae, and meets the Fae Prince V'lane and the mysterious Jericho Barrons, she realizes she has to grow up quick to survive. The plot is driven by her choices and we see the cause and effect with each one.
In real life on a normal day, I'd be avoiding the likes of Jericho and V'lane, but this isn't a normal day. I will always root for the good guy (and these guys are NOT GOOD)…but my goodness, I see the appeal.
Moning's fae are terrifying. I picked this up at night a few times and I'd stop and look into the dark rooms of my house. As is with the Fae, there's more to them than meets the eye. And there starts Leah's consuming of the series.
Come for the Fae, stay for Mac's character development.
This book may be unsuitable for people under 17 years of age due to its use of sexual content, language, and/or violence.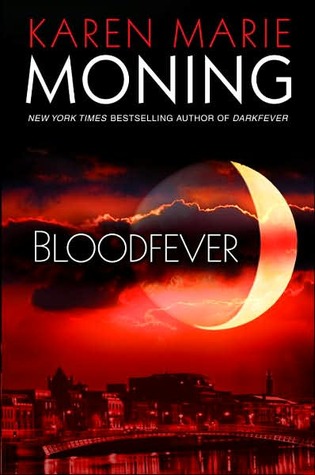 Bloodfever (Fever, #2)
by
Karen Marie Moning
Pages:
303
Published on
October 16th 2007
by
Delacorte Press
Goodreads
Also by this author:
Faefever (Fever, #3)
,
Dreamfever (Fever, #4)
I used to think my sister and I were just two nice southern girls who'd get married in a few years and settle down to a quiet life. Then I discovered that Alina and I descend, not from good wholesome southern stock, but from an ancient Celtic bloodline of powerful sidhe-seers, people who can see the Fae. Not only can I see the terrifying otherworldly race, but I can sense the sacred Fae relics that hold the deadliest of their magic.

When my sister was found dead in a trash-filled alley in Dublin, I came over to get answers. Now all I want is revenge. And after everything I've learned about myself, I know I have the power to get it….

MacKayla Lane's ordinary life underwent a complete makeover when she landed on Ireland's shores and was plunged into a world of deadly sorcery and ancient secrets.

In her fight to stay alive, Mac must find the Sinsar Dubh–a million-year-old book of the blackest magic imaginable, which holds the key to power over both the worlds of the Fae and of Man. Pursued by Fae assassins, surrounded by mysterious figures she knows she cannot trust, Mac finds herself torn between two deadly and irresistible men: V'lane, the insatiable Fae who can turn sensual arousal into an obsession for any woman, and the ever-inscrutable Jericho Barrons, a man as alluring as he is mysterious.

For centuries the shadowy realm of the Fae has coexisted with that of humans. Now the walls between the two are coming down, and Mac is the only thing that stands between them.…

Bloodfever picks up right where Darkfever left off. The second volume raises the stakes for Mac. She meets other women who can see the Fae, which is both pro and con. The other women grew up knowing what they were while Mac did not. Seeing them butt heads adds another facet to the already tense plot, but the origins behind the conflict, while explained, seemed thin.
The Unseelie (Dark Fae) creep more into Dublin but there's also another threat. Moning plants the seeds for this specter well; the whole time, we're left wondering if this unseen force is real or imagined. The suspense climbs higher the more Mac learns, which will unfortunately lead to her realizing she has a cruel side she never thought she could have.
As with the first book Bloodfever is driven by the choices of the characters. Little things you think don't matter do, and just when you think it can't get any worse, it does. Yet here I am.
This series is dark, twisty, and highly addictive. Anyone looking for a fast paced urban fantasy should check this one out.