End of the year already?! I'm stunned that the world has turned and a new year looms on the horizon. This calls for a book tag! I found this one at Brooke's blog. We don't know who created it but let's look at the questions.
1. Are there any books you started this year that you need to finish?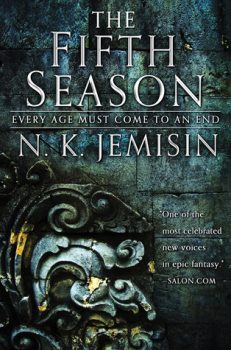 I started reading The Fifth Season back in February, but I wasn't in the head space to continue. I'd like to finish this and the rest of the series one day.
2. Do you have an autumnal book to transition into the end of the year?
Not really. I read what I'm in the mood for.
3. Is there a new release you're still waiting for?
All the books I was waiting for in 2019 have been released. If we're taking about 2020, that's a long list, which will be explored more in a future post.
4. What are three books you want to read before the end of the year?
I want to say the hype surrounding Ninth House and The Starless Sea has kind of scared me, but I don't know why I haven't read these yet. I have to read Before the Devil Breaks You soon though in preparation for the last book in the Diviners series.
5. Is there a book you think could still shock you and become your favorite book of the year?
There's still plenty of time for a dark horse to appear.
6. Have you already started making reading plans for 2020?
I have a few early release 2020 ARCs that are demanding to be read. My book club had available copies of All the Stars and Teeth and The Midnight Lie, which is one of my most coveted reads of the new year, so I'm stoked!
I'm tagging AJ, Siobhan, Dini, and whoever wants to do this tag.