Stacking the Shelves is a meme hosted by Tynga's Reviews in which we feature all the book goodness that we received, borrowed or purchased during the previous week. All links are to Goodreads.
 YOU MIGHT HAVE MISSED…
Life, News & Happenings
Hi there gorgeous people!  It seems like every week, when it's time to write this post, all I can think of is on how busy I've been and how tired I am.  Well, I'm getting back to my routine After traveling and being mostly absent from both my home and the office for the better part of a month.  I feel like I can't catch up with anything and I'm still behind with posts, reviews, reading and answering emails *sigh*  If only the day was longer 🙂
On the bright side, school is over for the boys, which makes life easier for hubby and for me.  Soon they will leave to spend a month with our families in Puerto Rico.  On the not so bright side, I started physical therapy this week since my hip has been bothering me.  Needless to say I'm a bit sore and it not the best mood.  The weather has been crazy, alternating between way to hot to constant thunderstorms.  We have a few events scheduled for the next few weekends that keeps us very busy and with little time to spare.
Shopping for father's day is done, but I still have to make a card for hubby and the boys do too.  That should be a fun project today 🙂
Stacking the Shelves
Purchased for Kindle
Lost Angeles by Lisa Mantchev and A.L. Purol – I'm a big fan of Mantchev and I already started reading this one and is going very well.  FYI, it's an adult book.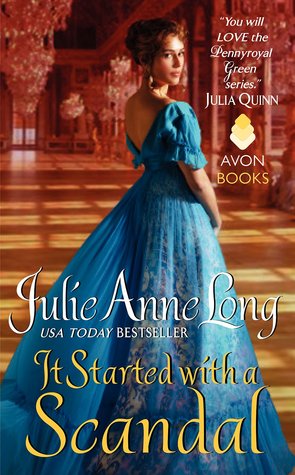 It Started with Scandal by Julie Anne Long – Last week I read What I Did for a Duke and I absolutely loved it!  It was my first book by Long and as you can see it will not be my last.  This is a long series and I guess I will be reading it out of order.
Dirty Thoughts by Megan Erickson – This will be my first book by Erickson and I'm looking forward to it 🙂
Review
Da Vinci's Tiger by Laura Malone Elliot – Such an interesting premise and unique cover, right?
What's stacking your shelves this week?
Don't forget to celebrate Reading with ABC's four year bloggiversary with me!  Enter to win HERE