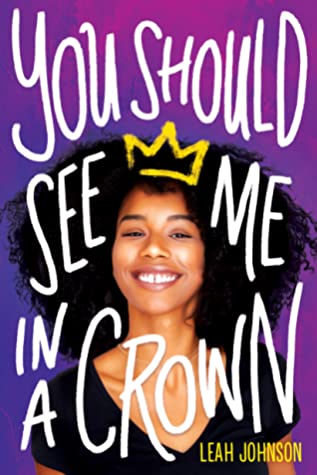 You Should See Me in a Crown
by
Leah Johnson
Pages:
328
Published on
June 2, 2020
Genres:
Contemporary
,
LGBT
,
Romance
,
Young Adult
Format:
Hardcover
Source:
Purchased
Amazon
|
B&N
|
Goodreads
Liz Lighty has always believed she's too black, too poor, too awkward to shine in her small, rich, prom-obsessed midwestern town. But it's okay -- Liz has a plan that will get her out of Campbell, Indiana, forever: attend the uber-elite Pennington College, play in their world-famous orchestra, and become a doctor.
But when the financial aid she was counting on unexpectedly falls through, Liz's plans come crashing down . . . until she's reminded of her school's scholarship for prom king and queen. There's nothing Liz wants to do less than endure a gauntlet of social media trolls, catty competitors, and humiliating public events, but despite her devastating fear of the spotlight she's willing to do whatever it takes to get to Pennington.
The only thing that makes it halfway bearable is the new girl in school, Mack. She's smart, funny, and just as much of an outsider as Liz. But Mack is also in the running for queen. Will falling for the competition keep Liz from her dreams . . . or make them come true?
I saw Leah Johnson at Yallstayhome and knew I had to read her book. You Should See Me in a Crown is the cute summery romance that features that loved/hated tradition of prom, with wonderful looks at family and friendship.
Story time: Prom for me was a blast. My senior year, I told people to vote for me, never imagining I would actually get nominated to Prom Court. I wasn't popular, but I was well-known with my classmates. Imagine my surprise when I made Prom Court. Imagine my bigger surprise when I was voted Prom Queen. It was very surreal. You Should See Me in a Crown took me back to that surreal time in my life.
Liz is an underdog in her school's bizarre prom-scholarship competition, a Black girl in a predominantly white school. She's also queer and has anxiety. But she has to compete if she wants to go to her dream college to study sickle cell disease. Her family has been affected by it; the prom scholarship will help her get that chance to study it.
Liz and new girl Mack are so cute together. I was taken with they're opposites attract chemistry. It's a little instalovey, but who cares when it's just so cute? They're good together. The romance may be featured, but the book is truly about Liz forging her own path. She was determined to try to fly under the radar in her competition, but if she truly wants to win the scholarship, that means putting her self out there for people to truly see. It was wonderful being there with Liz as she finds help in unexpected places, rekindling an old friendship with popular guy Jordan.
She defies expectations. The book talks about her experiences as a young Black girl and as a queer girl. Being Black and queer puts more pressure and attention on her. Homophobia and racism are issues in her school. As hurtful as it is, Liz fights back. #FYourFairytale, indeed!
My main critique would be the pacing with two of the subplots. Liz and her friend Gabi have a conflict that I thought was resolved a little too quickly. There could have been real potential to add more to Gabi, who felt more two dimensional throughout. There's also a scene where Liz takes Mack to a community center which didn't add much to the story for me.
The book knows its targeted audience. I say this with love: I felt old reading the book. I'd like to think I'm up to date on popular culture and whatnot, but in truth, I'm more like
and I'm okay with that. You Should See Me in a Crown is a fun, uplifting tale that deserves more attention. I also feel like there's potential for a spinoff(s) (maybe with Liz's brother as the narrator in one? :D). Pick this book up if you're in the mood for a cute, empowering read!