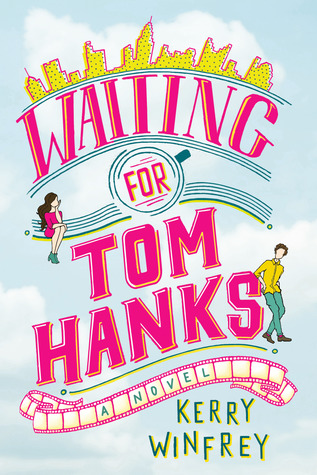 Waiting for Tom Hanks
by
Kerry Winfrey
Published on
June 11, 2019
by
Berkley
Genres:
Adult
,
Contemporary
,
Romance
Format:
Paperback
Source:
Library
Goodreads
Can a romcom-obssessed romantic finally experience the meet-cute she always dreamed of or will reality never compare to fiction, in this charming debut adult novel from Kerry Winfrey.
Annie is twenty-seven years old, single, and obsessed with romantic comedies (she and her mother watched them religiously, before her mom died). Her dating life is limited by the expectations she's formed from these movies. She is not as open to new experiences as she might be, because she's waiting for her Tom Hanks–i.e., a guy she'll find in the perfect, meet-cute romantic comedy way. When Annie does finally meet her perfect match, it's not quite in the way she expected, and she's forced to reckon with the walls she's built around herself over the years.
My romance-loving heart is hesitant when it comes to rom-coms, especially in books, but I was willing to check out Waiting for Tom Hanks. It's fluffy and a quick read. Kerry Winfrey's writing is smooth. The narrator, however, killed it for me.
I am full of emotions about this book. Rant ahead.
Annie lives for romantic comedies and is determined to find her "Tom Hanks," that perfect man who she'll have that meet cute with, who yearns for love as much as she does and whom she'll be with for the rest of her life. Okay, I don't mind dreaming of finding a good person who will melt your heart. Romances are crafted on this idea. I myself have done that back in the day.
Annie's ideas, however, are inflexible and downright delusional. Being in her head is aggravating. She literally wants her life to be a romantic comedy. If she doesn't have a meet cute with a guy, she counts him out. She asks guys if they live on houseboats because Tom Hanks lived on a houseboat in one of his movies–she lives in landlocked Ohio. She comes close to starting a relationship with a guy she's only slightly interested in who has a son because Tom Hanks had a son in Sleepless in Seattle. This isn't cute, this is horrible. Kudos to her friend Chloe who calls her out on her behavior.
Because he's not "Tom Hanks" material, she immediately writes off Drew Danforth, movie star, who's in her hometown to shoot a movie she's assisting with. Drew's a typical bad boy actor in the tabloids, but he secretly has a good heart. As a romantic lead, he's okay, although it's hard to get to know him since Annie is so busy hating him most of the time. There is no romantic chemistry or tension. There's not even fun snark.
Since this is a romance, when the Big Misunderstanding happens (and it's not a Misunderstanding, it is a Colossal Mess Up), the resolution is neat and tidy. If this were real life, the Colossal Mess Up that happens in Waiting for Tom Hanks would be a deal breaker.
But I did like Annie's friend Chloe, who is going to be the narrator for Winfrey's next book, and Annie's uncle was the warm, nerdy uncle of my heart. I might read Chloe's book, if only because I won't be in Annie's head again. That's enough aggravation for the day.