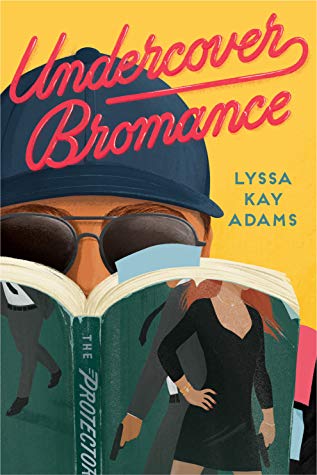 Undercover Bromance (Bromance Book Club, #2)
by
Lyssa Kay Adams
Published on
March 10, 2020
by
Berkley
Genres:
Adult
,
Contemporary
,
Romance
Format:
Paperback
Source:
Purchased
Amazon
|
B&N
|
Goodreads
Also by this author:
The Bromance Book Club (Bromance Book Club, #1)
Braden Mack thinks reading romance novels makes him an expert in love, but he'll soon discover that real life is better than fiction.
Liv Papandreas has a dream job as a sous chef at Nashville's hottest restaurant. Too bad the celebrity chef owner is less than charming behind kitchen doors. After she catches him harassing a young hostess, she confronts him and gets fired. Liv vows revenge, but she'll need assistance to take on the powerful chef.
Unfortunately, that means turning to Braden Mack. When Liv's blackballed from the restaurant scene, the charismatic nightclub entrepreneur offers to help expose her ex-boss, but she is suspicious of his motives. He'll need to call in reinforcements: the Bromance Book Club.
Inspired by the romantic suspense novel they're reading, the book club assist Liv in setting up a sting operation to take down the chef. But they're just as eager to help Mack figure out the way to Liv's heart… even while she's determined to squelch the sparks between them before she gets burned.

It's another Bromance Book Club book!
This series is fun, swoony, and steamy. Can there be fifty more for of these books, because I adore the relationships–romantic and platonic–that transpire in the pages.
Undercover Bromance is Liv (sister of the heroine from The Bromance Book Club, which is a romance lovers must-read) and Mack's story. Chef Liv works at a restaurant with a sleazy boss. Mack's a playboy who flits from one relationship to another. A self professed love expert, Mack's met his match with Liv.
While I didn't swoon over this book as much as I did with the first one, I still enjoyed it. Where else am I going to find a group of men (self professed "alpha males" no less) trying to cajole each other to buying romance novels from a small bookshop without getting embarrassed? Where else am I going to find a tight-knit sense of community in Liv's home with a loving, tough landlady and gruff housemate? The books brim with a warmth you can feel on each page. View Spoiler »Even when it's handling the hard subject matter of sexual harassment, it's fought with support and care. « Hide Spoiler You can trust the characters to have each other's backs.
And I laughed so much at the scenarios that happen. I grew up with roosters and can attest that the rooster in the book (yes, there is a rooster) is 100% true to roosters everywhere. The dialogue between the characters crackles with humor. There are some excellent one-liners that made me snort with laugh. I snorted with laughter several times while reading this. Oh, this series.
The romance was okay. It's supposed to be a hate-to-love romance because Liv isn't Mack's biggest fan, it's really more of an annoyed-to-love. Don't get me wrong, their chemistry sizzles and I did believe in their love. I just wasn't raving about it like I was in the first book. Something about the second chance romance of the first book really touched my heart. I think with a reread though, Undercover Bromance will win me over with the love story.
I'm over the moon that there will be a third book featuring the mysterious computer hacker introduced in this story. If you're looking for a fun, sweet, sexy romance, give this series a try.