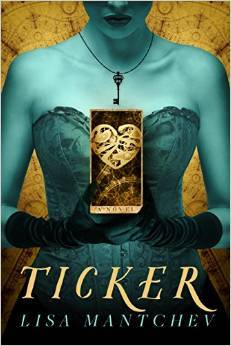 Ticker
by
Lisa Mantchev
Published on
December 1st, 2014
by
Skyscape
Genres:
Romance
,
Steampunk
,
Young Adult
Format:
Audiobook
Length:
8 hours 2 minutes
Source:
Purchased for Audible
Amazon
|
B&N
|
Goodreads
Also by this author:
Lost Angeles
A girl with a clockwork heart must make every second count.

When Penny Farthing nearly dies, brilliant surgeon Calvin Warwick manages to implant a brass "Ticker" in her chest, transforming her into the first of the Augmented. But soon it's discovered that Warwick killed dozens of people as he strove to perfect another improved Ticker for Penny, and he's put on trial for mass murder.

On the last day of Warwick's trial, the Farthings' factory is bombed, Penny's parents disappear, and Penny and her brother, Nic, receive a ransom note demanding all of their Augmentation research if they want to see their parents again. Is someone trying to destroy the Farthings...or is the motive more sinister?

Desperate to reunite their family and rescue their research, Penny and her brother recruit fiery baker Violet Nesselrode, gentleman-about-town Sebastian Stirling, and Marcus Kingsley, a young army general who has his own reasons for wanting to lift the veil between this world and the next. Wagers are placed, friends are lost, romance stages an ambush, and time is running out for the girl with the clockwork heart.

It breaks my heart to see so many one-two stars reviews for this book and a whole bunch of DNFs.  I think Ticker is just misunderstood. Let me start with this:
According to Wikipedia:
Steampunk is a subgenre of science fiction and fantasy literature and art that commonly features some aspect of steam-powered machinery, especially in a setting inspired by industrialized Western civilization during the 19th century. Steampunk works are often set in an alternative history of the 19th century's British Victorian era or American "Wild West"…
That being said, I happen to love steampunk, in fact is one of my favorite things to read. Jules Verne and more recently, Gail Carriger, Scott Westerfeld and Cassandra Clare are some authors that have delved in this unique genre.  I understand that it's not for everyone, but I found Ticker to be steampunk at its best.  Let me count the ways I love thee Ticker:
1.  Penny is a great character (the overall characterization is outstanding, by the way.)  She has a clockwork heart –thus the "ticker" part – that was a prototype and never intended to pump blood or her forever.  Crazy doctor Calvin Warwick went bat crazy after that and she's running out of time.  BUT instead of being a proper lady and expect for death lying down, she does the complete opposite.  She's brave, rash, unexpected, smart, pragmatic, adventurous, and just awesome!  
"Life is short, so I'm going to have dessert whenever possible."
2.  The rest of the entourage of characters is equally good.  Nic, Penny's twin brother is the only one in the Farthing family not plagued with a heart condition, he is fiercely loyal and would do anything for his sister.  Violet is not only Penny's best friend and Nic's girlfriend, but a fearless baker.  Sebastian is the sarcastic and business smart friend of the family.  Even Warwick with all his craziness makes a great villain.
"Apparently," I said softly, "all it takes for us to get along is two explosions and a double kidnapping."
3.  Marcus Kingsley is a young general in charge of the biggest private army in the land.  He doesn't necessarily wants to be in that positon, but does the best he cans for the greater good. He's Penny's love interest, even when she doesn't want him to be.  It is awesome to see how these two beat around the bush from each other, sparks fly!  It's a battle of wits that is so much fun to watch 😉
"My dearest Miss Farthing, will you do me the unutterable honor of wearing this cheap bit of metal that will most likely turn your finger green, pretending to love and honor me as your husband for the purposes of subterfuge and stratagem?"
4.  The plot of the story is really good.  It seems like our bad guy is always one step ahead and Penny and company can't catch up.  It is non-stop action, mysteries, kidnappings, poisonings and explosions galore!
5.  The setting and world building is outstanding!  It seems like we are reading about Victorian England all the time but countries are different.  Feminism is a given, men and women are created equal. Women are in the military, have jobs, own property. Mechanical spiders, flying machines, RiPAs, SkyDarts, mediums and more.  There is no "paranormal" elements, other than their believe in ghosts.
6.  The writing is thought provoking, so funny and unexpected.  I swear that Penny gets herself in some strange and hilarious situations for sure.  However, all is not fun and games.  One of the biggest questions asked of the reader is: how far is too far to go when saving someone's life?  How much of the human being can be replaced by machine and still be called 'human'?
Overall, Ticker was a great read for me.  As I said before, it is a great addition to the steampunk ranks.  I loved the mix of old and now, of technology and the lack thereof, I feel in love with the characters and the mystery.  I wish Ticker was the first in a series, I could read many more adventures about Penny and company 🙂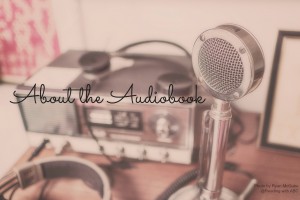 This is the second book that I hear from narrator Fiona Hardingham, my first was Maggie Stiefvater's The Scorpio Races, which I adored.  She's probably one of my favorite "British" voices because she's easy to understand.  Such a talented actress.  The pacing was really good and the performance excellent.  Different voices, tones, genders and even accents all come into play.