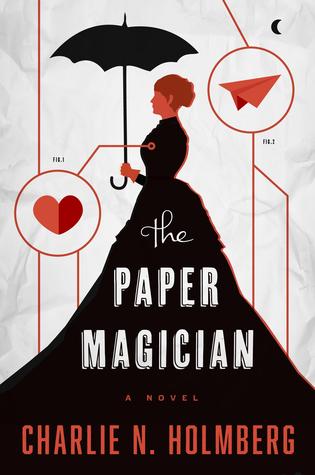 The Paper Magician
by
Charlie N. Holmberg
Published on
September 1st, 2014
by
47North
Genres:
Fantasy
,
Romance
,
Young Adult
Format:
Audiobook
Narrator:
Amy McFadden
Length:
7 hours and 25 minutes
Source:
Purchased for Audible
Amazon
|
B&N
|
BookDepository
|
Goodreads
Also by this author:
Ceony Twill arrives at the cottage of Magician Emery Thane with a broken heart. Having graduated at the top of her class from the Tagis Praff School for the Magically Inclined, Ceony is assigned an apprenticeship in paper magic despite her dreams of bespelling metal. And once she's bonded to paper, that will be her only magic… forever.

Yet the spells Ceony learns under the strange yet kind Thane turn out to be more marvelous than she could have ever imagined — animating paper creatures, bringing stories to life via ghostly images, even reading fortunes. But as she discovers these wonders, Ceony also learns of the extraordinary dangers of forbidden magic.

An Excisioner — a practitioner of dark, flesh magic — invades the cottage and rips Thane's heart from his chest. To save her teacher's life, Ceony must face the evil magician and embark on an unbelievable adventure that will take her into the chambers of Thane's still-beating heart—and reveal the very soul of the man.

I was first intrigued by The Paper Magician because I loved its cover.  The crumpled paper, the woman wearing an old-fashioned dress, the umbrella and paper plane and heart seemed all so different.  I am glad that I gave this story a chance because I ended up loving it.
By the ratings in Goodreads and some of the comments I can tell that this book was misunderstood.  Maybe I had better look with it because I love all things fantasy, steampunk, magic, historical and such.  The Paper Magician takes place in a London were magic is cherished and accepted.  There are magicians, schools, apprenticeships, and a whole infrastructure for anything magic.  In this 'world' magic is learned to manipulate or animate substances created by men, for instance rubber, metal, paper, and glass. There is also a forbidden magic, manipulating people by use of blood, this is called Excision.
These characters!  Can I just tell you how much I love them? Ceony finished magic school in one year and it is quite a feat to do, but then again, she has a photographic memory.  She is mandated to be the apprentice to a paper magician because they are lowering in numbers and she doesn't have a choice in the matter.  She is quite upset, until she figures out that being a paper magician is not as terrible as she thought.  Ceony had had her share of bad luck in life even though she's young.  She's loyal, loving, a great cook, smart, but not perfect.
"Perhaps the man wasn't so mad after all. Or maybe it's a madness that I can learn to appreciate."
Emery Thane is a paper magician and he's a bit eccentric. He's organized to a fault, paranoid, he dislikes most people and likes his peace and quiet.  He's had a hard life and he's very private about it.  He's also very patient with Ceony, he's just and kind; in short he's very easy to fall in love with 🙂  The "romance" is very slow burning and more of a promise of the future in the first installment of the trilogy.
As I explained before, the setting is London, but a different in an alternate past.  Women go to school, have professions, are respected and valued in this society.  It is not frowned up to have a male and female student/teacher combination.  Divorce is commonplace and accepted too!  The writing is so good.  I loved all the descriptions, the world building, the back stories.
"I don't know how many women can claim to have walked a man's heart, but I've walked yours,"
Now we come to the part that is, well, "strange".  The first part of the book is dedicated to the background story, but the second half is very different.  I don't want to spoil the book for you, but I think that Holmberg uses the trip to Emery's heart (remember there is magic in play her people!) to achieve two things: first, Ceony has a change to know and understand Emery very quickly because she is traveling through his past, his memories, his fears and hopes.  Second, this exploration gives both Ceony and Emory a chance to fall in love faster, after all now they 'know' each other in a more intimate way.
Overall, The Paper Magician was a great (if strange) beginning to a great series.  I already finished The Glass Magician and I adored it (review soon!)  I cannot wait for The Master Magician, the last book in the series, which will be published in July.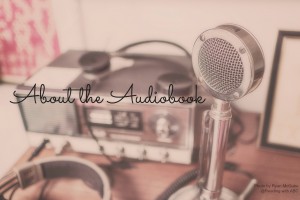 This is my first book narrated by Amy McFadden and I loved her voice. Not only is it very easy to distinguish between characters – always a must for me – but her acting is impressive. I felt invested in the story because of her performance. Loved it!