This book may be unsuitable for people under 17 years of age due to its use of sexual content, language, and/or violence.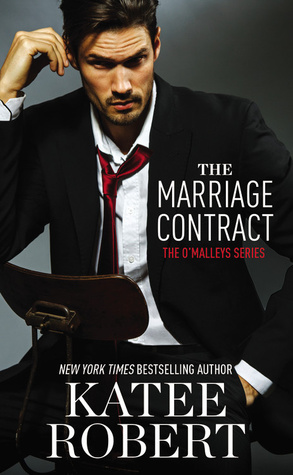 The Marriage Contract (The O'Malleys, #1)
by
Katee Robert
Pages:
368
Published on
June 2nd 2015
by
Forever
Genres:
Adult
,
Contemporary
,
Romance
Format:
eBook
Source:
Purchased
Amazon
|
Goodreads
New York Times and USA Today bestselling author Katee Robert begins a smoking hot new series about the O'Malley family-wealthy, powerful, dangerous and seething with scandal.
Teague O'Malley hates pretty much everything associated with his family's name. And when his father orders him to marry Callista Sheridan to create a "business" alliance, Teague's ready to tell his dad exactly where he can stuff his millions. But then Teague actually meets his new fiancée, sees the bruises on her neck and the fight still left in her big blue eyes, and vows he will do everything in his power to protect her.
Everyone knows the O'Malleys have a dangerous reputation. But Callie wasn't aware just what that meant until she saw Teague, the embodiment of lethal grace and coiled power. His slightest touch sizzles through her. But the closer they get, the more trouble they're in. Because Callie's keeping a dark secret-and what Teague doesn't know could get him killed.

The Marriage Contract was surprisingly good.  Not surprising that I liked it since Alyssa recommended it :), but because I expected something else based on the synopsis.  Instead of a trite story line, I fell in love with the characters and the way the story developed.
Callista Sheridan is the heir to the Sheridan territory and fortune now that her brother is dead.  A marriage is arranged between her father and the patriarch of another mafia family.  That marriage falls through (can't tell you why!) and since that family wants revenge, Callie's father quickly arranges for her to marry Teague O'Malley. She's resigned to this, she was brought up to be obedient and do what's best for her family.  Callie is much more reserved and distrustful. She's also intelligent, a strategist and a loving daughter.
"I hear we're going to be married."…

"What do you think about that?"

He shrugged. "It doesn't really matter what either of us thinks, does it?"

"No, I supposed it doesn't."
I loved Teague from the beginning.  He has a protective streak that's a mile long and I love that in a man.  He puts his siblings first and is always looking for a way out of the mafia life.  For whatever reason, he sees in Callie a lost soul, someone that needs help and shelter and he takes it upon himself to be her protector.  Teague is sincere, smart, loving, a good friend and sibling.  He tried to do what's right, even if he can't always manages to do so.
Teague and Callie have similar upbringing, being mafia royalty and raised to obey orders and look out for their respective families and the people that depend on them.  They have a lot of money, but they secretly wish they could leave that life behind. I think they had a lot in common, beside their strong attraction for each other. There is a bit of insta-love or at least inta-lust, but it worked in the context of the story and I wanted it to happen because it made the arranged marriage a lot more palatable.
"You're thinking too much, angel."

"I don't know how to stop."

He lifted his head and grinned down at her, the wolfish expression threatening to curl her toes. "I can think of a few ways."

Yes, yes, yes. This was what she'd come her wanting. Needing. She licked her lips. "I like the sound of that."

"I thought you might."
The plot/story line is not unique, but very well done.  The story has a fast pace, it's action packed and filled with intrigue, but transparent to the reader.  I really liked the writing, it's easy to read, and engrossing.  The characterization was probably the thing I liked the most about The Marriage Contract and thus I want to see what future awaits the rest of the O'Malley clan.
Overall, The Marriage Contract is a quick, enjoyable, entertaining read. I loved Teague and