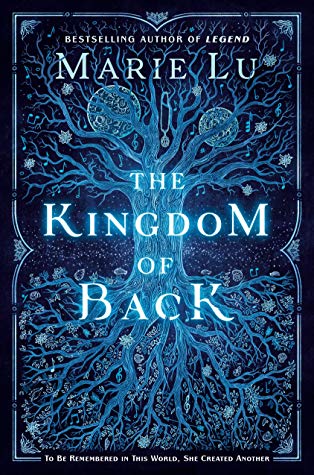 The Kingdom of Back
by
Marie Lu
Pages:
336
Published on
March 3, 2020
by
Putnam/G. P. Putnam's Sons
Genres:
Family
,
Fantasy
,
Historical Fiction
,
Young Adult
Format:
ARC
Source:
Borrowed
Goodreads
Also by this author:
Legend
Two siblings. Two brilliant talents. But only one Mozart.
Born with a gift for music, Nannerl Mozart has just one wish--to be remembered forever. But even as she delights audiences with her masterful playing, she has little hope she'll ever become the acclaimed composer she longs to be. She is a young woman in 18th century Europe, and that means composing is forbidden to her. She will perform only until she reaches a marriageable age--her tyrannical father has made that much clear.
And as Nannerl's hope grows dimmer with each passing year, the talents of her beloved younger brother, Wolfgang, only seem to shine brighter. His brilliance begins to eclipse her own, until one day a mysterious stranger from a magical land appears with an irresistible offer. He has the power to make her wish come true--but his help may cost her everything.
In her first work of historical fiction, #1 New York Times bestselling author Marie Lu spins a lush, lyrically-told story of music, magic, and the unbreakable bond between a brother and sister.

I was weary going in to The Kingdom of Back. The hype surrounding Marie Lu's books kept me away until I read Warcross, which I thought was okay. But The Kingdom of Back was promising historical fiction and fantasy, so I went for it.
I needed this book.
This is the story of Nannerl, the older sister of Wolfgang Amadeus Mozart. Did you know he had a sister? Neither did I, and that is a crime, because she was just as brilliant as her brother. She loved music and even composed classic pieces. Without going in to too much personal detail, I related very much to Nannerl. Her quest is mine. She loves her brother, even at its most difficult. She has wants and desires. She is one of the strongest young women in YA fiction.
Lu masterfully weaves together the history of the Mozart children with the magic of the Kingdom of Back, a place where trees grow upside down and it's always nighttime. The world building reminded me a lot of the film Pan's Labyrinth. It's a beautiful, eerie place, which calls to Nannerl in a way that proves dangerous. The conflict she feels is well thought out; there are no easy answers for her. It's easy to say she should do one thing, but is it really? Marie Lu makes Nannerl's conflict understandable, even when you think it should be simple.
This book is also the love letter it is: to the artists and dreamers, to a the boy who would go on to be known for some of the world's most beautiful music, and especially for the woman who is not well known in history. This book shattered my heart in the best way possible. I had a good long cry at the end of the book. It hit me on several emotional levels.
What it all comes down to though is the bond between Nannerl and her brother. Lu writes in her author's note that they were close, and you can feel that closeness in the story. Even when Nannerl doubts, that closeness is still there. Wolfgang, known affectionally as Woferl, so obviously adores his older sister.
All of this works together to create a haunting book that I'll be thinking about for a long time. It's a beautiful story for creators everywhere.