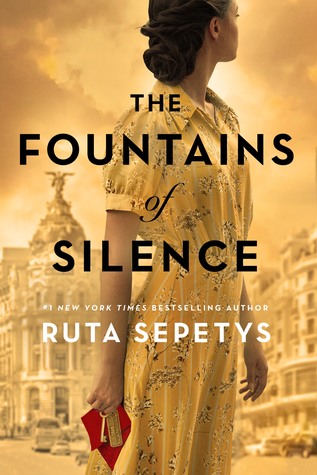 The Fountains of Silence
by
Ruta Sepetys
Pages:
512
Published on
October 1, 2019
by
Philomel Books
Genres:
Historical Fiction
,
Romance
,
Social Issues
,
Young Adult
Format:
ARC
,
Hardcover
Source:
Amazon Vine
,
Library
Amazon
|
B&N
|
Goodreads
Also by this author:
Salt to the Sea
Madrid, 1957. Under the fascist dictatorship of General Francisco Franco, Spain is hiding a dark secret. Meanwhile, tourists and foreign businessmen flood into Spain under the welcoming guise of sunshine and wine. Among them is eighteen-year-old Daniel Matheson, the son of a Texas oil tycoon, who arrives in Madrid with his parents hoping to connect with the country of his mother's birth through the lens of his camera. Photography--and fate--introduce him to Ana, whose family's interweaving obstacles reveal the lingering grasp of the Spanish Civil War--as well as chilling definitions of fortune and fear. Daniel's photographs leave him with uncomfortable questions amidst shadows of danger. He is backed into a corner of decisions to protect those he loves. Lives and hearts collide, revealing an incredibly dark side to the sunny Spanish city.

Master storyteller Ruta Sepetys once again shines light into one of history's darkest corners in this epic, heart-wrenching novel about identity, unforgettable love, repercussions of war, and the hidden violence of silence--inspired by the true post-war struggles of Spain.
Ruta Sepetys has made a name for herself with her historical fiction, portraying events not often written about. I've only read her previous work, Salt to the Sea, but I inhaled that book over two days. It was an impactful, well rounded book featuring multiple points of view that added solid dimensions to the story. The Fountains of Silence uses multiple characters to explore Franco's Spain in the 1950s, taking a look at the oppression of Spain's people and the privilege of a young American who's visiting Madrid with his family.
I'm going to admit I didn't know much about Franco's rule, so seeing the different perspectives through the eyes of the characters in The Fountains of Silence was an introduction to the world. Sepetys took several years to research 1950s Spain and it shows. The centerpiece of the book is the hotel: made to look lush in a world that is oppressing its own people.
I could see what the book was aiming for: highlighting a nation-wide tragedy. Where The Fountains of Silence stumbles for me is finding that balance between its characters.
There are five central characters in the book. Daniel is the naive, well meaning outsider. Ana is a young girl who dreams of leaving Spain and seeing the world, but her life is confined to working at the hotel and her family's small home. Ana's sister, Julia, is raising an infant and only wants the best for her family; Rafa, their brother, who yearns to be a bullfighter and show Franco he's not afraid; and their cousin Puri, who works with babies and young children in an orphanage. Each of these characters stands for something different–different beliefs, different views–while trying to survive.
Most of these characters never quite felt real to me. There were also times when I forgot about one of the characters or wanted to know more about one character in particular than another. This is the tricky part from writing multiple points of view: sometimes the reader will latch on to one character instead of the whole, and this was definitely my case.
You know I appreciate an excellent love story. Romance can be written about in a turning point in history. It's been done successfully numerous times before. The romance between Daniel and Ana is…unnecessary. I didn't believe in it. I didn't really want it. If the focus had been what is going on in Spain with the seeds of something more between Ana and Daniel, or better yet, been solely focus of Ana, this would have been a stronger novel. However, I do believe The Fountains of Silence will start many conversations though, and inspire readers to look in to the history behind the book.