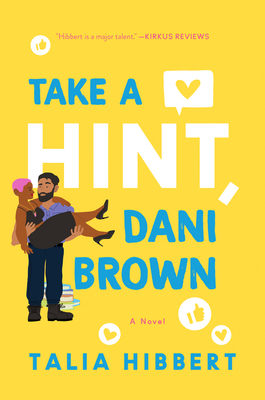 Take a Hint, Dani Brown (The Brown Sisters, #2)
by
Talia Hibbert
Pages:
361
Published on
June 23, 2020
by
Avon Books
Genres:
Adult
,
Contemporary
,
LGBT
,
Romance
Format:
Paperback
Source:
Purchased
Amazon
|
Goodreads
Also by this author:
Get a Life, Chloe Brown (The Brown Sisters, #1)
Talia Hibbert returns with another charming romantic comedy about a young woman who agrees to fake date her friend after a video of him "rescuing" her from their office building goes viral...
Danika Brown knows what she wants: professional success, academic renown, and an occasional roll in the hay to relieve all that career-driven tension. But romance? Been there, done that, burned the T-shirt. Romantic partners, whatever their gender, are a distraction at best and a drain at worst. So Dani asks the universe for the perfect friend-with-benefits—someone who knows the score and knows their way around the bedroom.
When brooding security guard Zafir Ansari rescues Dani from a workplace fire drill gone wrong, it's an obvious sign: PhD student Dani and ex-rugby player Zaf are destined to sleep together. But before she can explain that fact, a video of the heroic rescue goes viral. Now half the internet is shipping #DrRugbae—and Zaf is begging Dani to play along. Turns out, his sports charity for kids could really use the publicity. Lying to help children? Who on earth would refuse?
Dani's plan is simple: fake a relationship in public, seduce Zaf behind the scenes. The trouble is, grumpy Zaf's secretly a hopeless romantic—and he's determined to corrupt Dani's stone-cold realism. Before long, he's tackling her fears into the dirt. But the former sports star has issues of his own, and the walls around his heart are as thick as his... um, thighs.
Suddenly, the easy lay Dani dreamed of is more complex than her thesis. Has her wish backfired? Is her focus being tested? Or is the universe just waiting for her to take a hint?

Hi, my name's Leah and I'm declaring my undying love for Take a Hint, Dani Brown. As much as I liked the first book in the Brown Sisters series, Take a Hint, Dani Brown raised the bar set by the first book and took it to new heights. This is the feel-good, stand up and cheer romance of the year for me.
Take a Hint has fake dating, one of my all time favorite tropes. But Take a Hint also ups the stakes because the hero, Zafir, is already more than a little in love with Dani; Dani, however, doesn't go for relationships.
I'm already swooning.
Talia Hibbert excels at a lot of things with her romances. First, the diversity. In her author description, she says she writes diverse romance because "she believes that people of marginalized identities need honest and positive representation." If this isn't the mission statement of every author who wants to write diverse books, it should be. Dani is bisexual, plus-sized witch, a PhD candidate who's confident and funny. She's fabulous and knows it. Zafir is an ex-rugby player dealing with anxiety. He's a large, intimidating man whose resting face scares people, but he's really a big softie when you get to know him. And he reads romance novels because he loves happy endings.
In other words, these two are wonderful and I would love to know them if they were real. But that's also a wonder of Talia Hibbert's writing: these characters feel real. You feel their wants and needs. I cared so deeply for Dani and Zaf. I laughed with them. I worried with them. Whenever Zaf had an anxious moment (his anxiety mirrored mine), I'd breathe with him. When Dani stressed about her work, I stressed with her.
This brings me to the other strong point: the chemistry. Oooh, Dani and Zaf's chemistry is undeniable. It's full of banter and sarcasm mixed with the undeniable attraction they both feel. There are so many laugh out loud moments between them. The romance is very steamy, and since the build up happens gradually, it might not be as jarring as it was for other readers who were shocked by the love scenes in the first book. Dani and Zaf also made me cry. I just love them together.
Family is important to both characters and their families play key roles. Dani's sisters are always there for her. Zaf's family, still touched by grief, give him strength and provide a few laughs, too. Take a Hint, Dani Brown feels like a welcoming embrace from loved ones because it is full of love. I don't even mind how corny that sounds, because it's true.
I will follow Talia Hibbert's writing wherever it goes. I can't wait for Eve Brown's book.