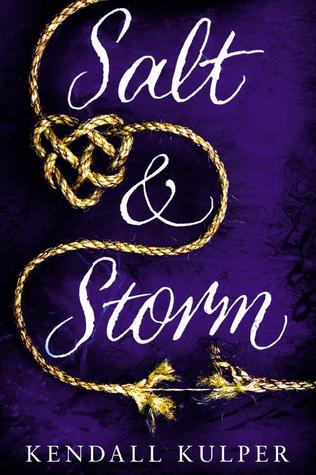 Salt and Storm
by
Kendall Kulper
Pages:
384
Published on
09-23-2014 by Little, Brown Books for Young Readers
Genres:
Fantasy
,
Historical Fiction
,
Romance
,
Young Adult
Format:
eARC
Goodreads
Also by this author:
Salt & Storm
Sixteen-year-old Avery Roe wants only to take her rightful place as the witch of Prince Island, making the charms that keep the island's whale men safe and prosperous at sea. But before she could learn how to control her power, her mother, the first Roe woman in centuries to turn her back on magic, stole Avery away from her grandmother. Avery must escape from her mother before her grandmother dies, taking with her the secrets of the Roe witch's power.

When Avery wakes from a dream foretelling her own murder, she realizes time is running short—for her and for the people of her island, who, without the Roes= witches, will lose their ships and the only life they know. With the help of Tane, a tattooed harpoon boy from the Pacific Islands, Avery must plot her escape from her mother and unravels the mysteries of her mother's and grandmother's pasts. Becoming a witch may prevent her murder and save her island from ruin, but Avery discovers it will also require a sacrifice she never expected—one she might not be able to make.

Salt and Storm is one of the most original books I've read all year. It tells the story of sixteen-year-old Avery Roe, latest in a long line of witches sworn to protect Prince Island – but her mother has turned her back on magic, taking Avery with her. Unable to return to the old cottage where she feels she truly belongs, the one magical remnant left to Avery is the ability to read dreams. She's never read a dream that hasn't come true, but when a dream tells her she's destined to be murdered, she'll do anything to alter her future. Her only hope lies with a beautiful tattooed boy named Tane, but can she really trust him? Becoming a witch may prevent her murder and save her island from ruin, but the life of a Roe witch is plagued with pain and sacrifice, and even Avery and Tane may not be able to escape that.
Salt and Storm – or to use its UK title, The Witch of Salt and Storm, which I actually prefer as it's more memorable and unique – is lyrical, detailed and exquisitely descriptive. Reminiscent of books like The Strange and Beautiful Sorrows of Ava Lavender, it's historical fiction meets magical realism; epic and precise, imaginative and well-researched. The writing style takes some getting used to but it signals the formation of a truly unique new voice for YA.
Setting is an essential component of any novel and this is certainly true of Salt and Storm.  I loved the island setting, with its raging seas, weathered inhabitants and elusive witches. The Roe women are sea witches but there's also something incredibly earthy about them and it gave the atmosphere of the book are very rich, layered feel.
Avery is a very flawed main character. She's single-minded and has complete tunnel vision when it comes to becoming the Roe witch. She lashes out and blames other people for her misfortune, but you have to admire her determination. The events of Salt and Storm are a huge learning curve for her. She's not the easiest character to like, but you won't be able to stop the pages turning as she's forced to confront truths and face her fears.
In contrast, I absolutely loved Tane, the tattooed Pacific Islander who shows Avery that there's more to the world than just a fishing village and Roe witches. He's sure of himself in ways that Avery isn't, but he's also extraordinarily compassionate. He's complicated and real. I was particularly fascinated by his tattoo magic and would have loved to have seen more of it in the story.
The one problem I had with Avery and Tane's relationship was the fact that it's the worst case of insta-love in YA I've ever seen. I like to think I have a higher tolerance for insta-love or insta-attraction in books than most, but the way that Avery and Tane meet and declare their undying love for each other within days of meeting was just beyond belief. They've known each other a week and they're already prepared to sacrifice themselves for one another? It's a noble sentiment but it's still kind of ridiculous, and it's certainly not helped by the book's pacing.
History has a huge influence on Salt and Storm, and it was one of my favourite aspects of the novel. There's literal history in the form of the time period and the whaling traditions that define Avery's hometown, and then there's the personal history of the Roe witches. If Kulper has played her cards right – and I believe she has – readers will be equally as invested in the story of the Roe witches as they are in Avery's fate. The book's plot is strong but could do with a few more twists and turns, so the Roe tales interspersed with the narrative provide much-needed back-up to a chain reaction of events that could otherwise have felt predictable. That said, I enjoyed the book more than I thought I would and for that the author deserves huge recognition.
The supporting cast of Salt and Storm are fairly one-dimensional – with the exception of the smuggler, I want to see more of him! – but the book's world is one I'd definitely like to return to. Kendall Kulper's next book will be a prequel to this novel, and I've already added it to my TBR. Avery Roe's magical-historical universe is one of overwhelming potential and I can't wait to revisit it.
In short: For fans of The Scorpio Races by Maggie Stiefvater and Ingo by Helen Dunmore, Salt and Storm is original, spellbinding and beautifully written. It is magnificent tale full of magical realism and intriguing history; Kendall Kulper is a YA writer to watch. It has its faults, but still gets strong 4 stars from me.
Latest posts by ariannebookblogger
(see all)