This book may be unsuitable for people under 17 years of age due to its use of sexual content, language, and/or violence.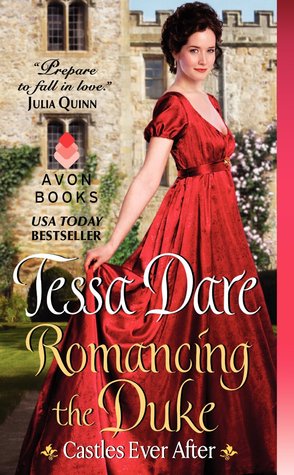 Romancing the Duke
by
Tessa Dare
Published on
January 28th, 2014
by
Avon Impulse
Genres:
Romance
Format:
eBook
Source:
Purchased
Amazon
|
B&N
|
Goodreads
Also by this author:
The Duchess Deal
As the daughter of a famed author, Isolde Ophelia Goodnight grew up on tales of brave knights and fair maidens. She never doubted romance would be in her future, too. The storybooks offered endless possibilities.

And as she grew older, Izzy crossed them off. One by one by one.

Ugly duckling turned swan?
Abducted by handsome highwayman?
Rescued from drudgery by charming prince?

No, no, and… Heh.

Now Izzy's given up yearning for romance. She'll settle for a roof over her head. What fairy tales are left over for an impoverished twenty-six year-old woman who's never even been kissed?

This one.

It's been a while since I read historical romance and it felt like slipping into my favorite jammies.  Romancing the Duke was such a pleasure to read.
Izzy is asked by a lawyer to present to Gostley Castle, where she meets the Duke of Rothbury (Ransom) and finds out she has inherited said castle.  The problem is that the duke did not sold the castle so foul play is afoot.  To unravel the problem and since Izzy has nowhere else to go, she agrees to work with Ransom and assist him in putting his affairs in order.
Izzy is a realist dreamer.  I know that is a contradiction, but even her name (Isolde Ophelia Goodnight) was inspired by tragedy and romance.  Izzy's father was the author of a very successful short stories and when he passed away without changing his will, he left her penniless.  She takes the word "romantic" to a whole new level.  She tries to be positive about her circumstances and see the glass as half full.
"Her cravings for romance were gone. Now she'd settled for bread. What fairy tales were left over for a plain, impoverished, twenty-six-year-old woman who'd never even been kissed?"
Ransom is swoon worthy for sure.  He's handsome, even after a terrible dueling accident.  He's bad tempered, bad mannered, rude and crass, at least at the beginning.  Of course, he changes quite a bit after he meets Izzy and she brings order, friendship and love into his life.  However, he's all bark and no bite (although I wouldn't mind his bite!)
"Now listen to me. I don't know who they are or what they want from you. But while there's breath in my lungs and strength in my body, I swear this much: I won't let you come to harm."
I really enjoyed the other characters and the fact that they are not what it seems.  For instance, the beautiful Miss. Pelham is the vicar's daughter and you expect her to me mean and conceited just because she's so pretty.  She's not, she's all kindness and goodwill.  The Moraglian army was hoot too!
I really liked Romancing the Duke, but I felt it could have been longer.  It seemed to me like Ransom changed a lot almost overnight.  I would have loved to see more about their life together, even if the epilogue was very sweet.  This is my first book by Tessa Dare and I did enjoy the writing.  The plot is so funny!  The followers of Izzy's father stories call themselves Moranglians and it reminded me so much of the Star Wars, Star Treck and other fandoms.
"But as he kissed her, something went horribly, horribly wrong.

This time, she kissed him back. Not with mere curiosity or artless enthusiasm but with a sweet, unfettered passion that made his ribs ache."
Overall, Romancing the Duke was a really good historical romance.  It had humor, great characters, a crazy plot and a happy ending.
About the cover:  I love this cover.  I like the colors, the font and the castle on the background.  It is very tasteful and graceful.