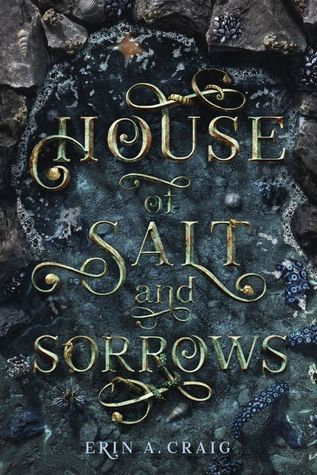 House of Salt and Sorrows
by
Erin A. Craig
Pages:
416
Published on
August 6, 2019
by
Delacorte
Genres:
Fantasy
,
Retelling
,
Young Adult
Format:
Hardcover
Source:
Book of the Month YA
Goodreads
In a manor by the sea, twelve sisters are cursed.

Annaleigh lives a sheltered life at Highmoor, a manor by the sea, with her sisters, their father, and stepmother. Once they were twelve, but loneliness fills the grand halls now that four of the girls' lives have been cut short. Each death was more tragic than the last—the plague, a plummeting fall, a drowning, a slippery plunge—and there are whispers throughout the surrounding villages that the family is cursed by the gods.

Disturbed by a series of ghostly visions, Annaleigh becomes increasingly suspicious that the deaths were no accidents. Her sisters have been sneaking out every night to attend glittering balls, dancing until dawn in silk gowns and shimmering slippers, and Annaleigh isn't sure whether to try to stop them or to join their forbidden trysts. Because who—or what—are they really dancing with?

When Annaleigh's involvement with a mysterious stranger who has secrets of his own intensifies, it's a race to unravel the darkness that has fallen over her family—before it claims her next.
House of Salt and Sorrows was incredibly hyped pre-publication. While I'm hesitant to get too excited for a book nowadays, I was looking forward to this one.  This had all the makings of the twisted tales I like, but there are some things that happen that did not work or left me confused. The book feels like a patchwork of ideas that were awkwardly thrown together.
House was my first introduction to The Twelve Dancing Princesses fairy tale. I looked up the original story after reading House, and House is more a loose retelling of the Dancing Princesses. There's also nods to Edgar Allan Poe and H.P. Lovecraft (more on this later). The book thrives on atmosphere. Taking place on an island nation, there are crashing waves and ocean mist. It's a Victorian inspired world, complete with the Victorian mourning rituals. There are rumors of curses. These are the strongest elements.
Annaleigh is the sixth daughter of the island's lord. She was a decent narrator, but as a character, some was just okay. I never felt her love for her sisters. As she investigates the rumors of her family being cursed, it leads her to her instalove interest Cassius. This is where the book really starts losing its footing. One look at this too-hot boy and Annaleigh basically forgets how to do anything. I want to believe it's because she's lived a sheltered life with her sisters. But I thought we were trying to find the truth about a curse. This instalove story was something that would have been popular ten years ago. View Spoiler »Cassius is the son of the moon goddess, continuing the trend of the supernatural being falling in love with a human girl. « Hide Spoiler
As the book progresses, things start happening to Annaleigh. It starts as dreams, then turns to visions while she's awake. It's whispers and noises. The act of dancing leads to unexpected truths. The slow pace of the horrors unnerving and otherwordly, very Poe-like and Lovecraftian. I was reading this at night and got scared a few times. Then it gets full on weird. There were times when I, like Annaleigh, started questioning my sanity. I was constantly asking myself, "What is going on?" Some big reveals were shocking, but View Spoiler »the reveal that Annaleigh's stepmother made a deal with a god of chaos to kill off the sisters so the stepmother's unborn child can be the heir was random. « Hide Spoiler.
Overall, House of Salt and Sorrows is not what I was expecting in both good and bad ways. I am interested in seeing what Erin A. Craig does next though.