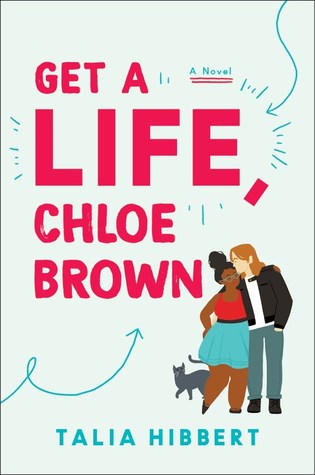 Get a Life, Chloe Brown (The Brown Sisters, #1)
by
Talia Hibbert
Pages:
373
Published on
November 5, 2019
by
Avon
Genres:
Adult
,
Contemporary
,
Romance
Format:
Paperback
Source:
Purchased
Amazon
|
B&N
|
Goodreads
Also by this author:
Take a Hint, Dani Brown (The Brown Sisters, #2)
Chloe Brown is a chronically ill computer geek with a goal, a plan, and a list. After almost—but not quite—dying, she's come up with seven directives to help her "Get a Life", and she's already completed the first: finally moving out of her glamorous family's mansion. The next items?
• Enjoy a drunken night out.• Ride a motorcycle.• Go camping.• Have meaningless but thoroughly enjoyable sex.• Travel the world with nothing but hand luggage.• And... do something bad.
But it's not easy being bad, even when you've written step-by-step guidelines on how to do it correctly. What Chloe needs is a teacher, and she knows just the man for the job.
Redford 'Red' Morgan is a handyman with tattoos, a motorcycle, and more sex appeal than ten-thousand Hollywood heartthrobs. He's also an artist who paints at night and hides his work in the light of day, which Chloe knows because she spies on him occasionally. Just the teeniest, tiniest bit.
But when she enlists Red in her mission to rebel, she learns things about him that no spy session could teach her. Like why he clearly resents Chloe's wealthy background. And why he never shows his art to anyone. And what really lies beneath his rough exterior…

I read Get a Life, Chloe Brown back in December and have been waiting to review it to coincide with the companion book coming out tomorrow. Let me gush about Get a Life now!
This is a book that emphasizes body positivity and family. It's fun, heartwarming, and steamy (and it sure is steamy!). Chloe's a witty computer geek who lives with chronic pain. Because of her fibromyalgia, it's taken a toll not only on her health but also on how people treat her. It's easier for her to keep people, except for her family, at a distance to protect herself. Red, the new superintendent at her apartment complex, is a gruff, tattooed biker with a heart of gold. I'm already in love with them both.
There are some misunderstandings when they first meet which prompts them to dislike each other, but you know I live off the enemies-to-lovers trope. Add a cat who inadvertently becomes the catalyst for them to make a bargain: Chloe wants to experience some things she thinks she's missed out on, while Red wants to rework himself back into the art world. They agree to help one another.
Their chemistry sizzles. Chloe had me smiling with her one-liners and Red had me smiling with his observations. The more they get to know each other, the more they come to understand one another. I squealed with glee. They are so good together. The love scenes had my toes curling. Get a Life reminded me how much I missed romance novels.
Chloe's sisters are incredible. Dani and Eve are always checking on their big sister; when they find out about Chloe and Red's bargain, they of course want details. They obviously care about Chloe, and vice versa, even when it drives Chloe crazy. Nothing beats a strong sibling bond.
At times, I got aggravated with Chloe's thoughts about keeping people at a distance. It's because, well, they reminded me of myself…and it made me aggravated at myself. I get your mindframe, Chloe, too well. XD  Also, there's a Big Misunderstanding that happens near the end of the book that made me roll my eyes because it felt like it was there for the sake of drama and not real conflict.
My pre-order for the next Brown sisters book is in and I am waiting for Take a Hint, Dani Brown to be mailed to me. In the meantime, I'll be re-reading Get a Life and basking in its sweet, sexy glory.