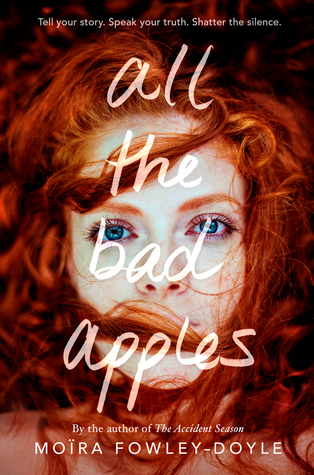 All the Bad Apples
by
Moïra Fowley-Doyle
Pages:
320
Published on
August 27, 2019
by
Kathy Dawson Books
Genres:
Family
,
Historical Fiction
,
LGBT
,
Magical Realism
,
Young Adult
Format:
ARC
Source:
Borrowed
Goodreads
The day after the funeral all our mourning clothes hung out on the line like sleeping bats. 'This will be really embarrassing,' I kept saying to my family, 'when she shows up at the door in a week or two.'

When Deena's wild and mysterious sister Mandy disappears - presumed dead - her family are heartbroken. But Mandy has always been troubled. It's just another bad thing to happen to Deena's family. Only Deena refuses to believe it's true.

And then the letters start arriving. Letters from Mandy, claiming that their family's blighted history is not just bad luck or bad decisions - but a curse, handed down through the generations. Mandy has gone in search of the curse's roots, and now Deena must find her. What they find will heal their family's rotten past - or rip it apart forever.

What an infuriating book. I liked it a lot. This was my first Moira Fowley-Doyle novel and if this is the type of story she promises, I have to read her previous works immediately. All the Bad Apples manages to juggle several tough subjects and spins them all into a compelling, feminist story.
Set in Ireland, the book lives on atmosphere. It takes its time to create the world our protagonist, Deena Rys, lives in. Her school is oppressive to anyone in the LGBTQIA community. Her family lives under the shadow of her strict, overbearing father. When she comes out as a lesbian, her father does not accept the news. I cared about Deena. She is fragile at first and finds her strength when she sets out to find her missing sister. Things will not be easy for her, but by the end, she's more than ready to face things head on.
There's a fairy-tale quality to the writing that's beautiful and languid. It makes Deena's struggles with her home life and classmates even more gut-wrenching.  It also makes the magical realism and metaphors especially powerful. Her father is obsessed with the idea of "bad apples" in the family, especially girls who are "out of line" with the expectations of their family. The apple metaphor plays a significant part in the book, and Deena will learn more about the bad apples in her family tree when she finds letters written by Mandy. The fairy tale turns even darker.
The Rys women's history is horrific and, sadly, something that still happens today. Without going into spoilers, this is a world intent on keeping women in a certain place, that makes them ashamed of being women. It made me wonder how anyone could accept the events that happen as the norm. But it did. And it does. Fowley-Doyle adds in an author's note (from the ARC) that this is a book fueled by anger, and it does make you angry. It should make you angry.
There are several things which I wanted more of from the book. Deena's best friend Finn is a boy who I wanted to get to know more. She describes him as one of the few people who truly gets her, and I didn't see as much of the connection as there could have been. There's also a hint of a romance between Deena and another girl that starts and then goes nowhere. The book is about Deena's truth, but if these subplots are introduced, more could have been developed about them.
All the Bad Apples is a timely, haunting read worth the apples from this family tree.